Podcast listening is on the rise. This isn't groundbreaking news and is something we have previously discussed within the rise of digital audio, and even back in 2019 where we looked at whether it was time to subscribe to podcast advertising.
But the scale of that increase is worth repeating. Weekly reach doubled from 2018 to 2020, with RAJAR reporting that weekly reach was nearly 20% last year.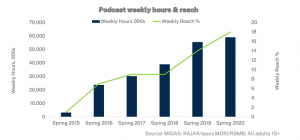 The trend accelerates for younger audiences
This trend has accelerated even further for younger audiences with Facebook expanding into audio.
Touchpoints data shows us that in 2018, 'average daily reach' was around 18% for 16-34 adults. This has since grown to 28% in 2021 – not too far off from 'live radio reach' sitting at 50%.
Despite this stellar growth, Podcasts haven't always been an obvious advertising channel for brands, due to the fragmented nature of the market and no central reporting system. UK podcast advertising revenues aren't clear, but are not thought to exceed £12m per annum.
There are numerous potential reasons for this, including high pricing, perceived lack of scale or reach, and the difficulty of tracking and measurement. However, this is changing. The potential for Podcasts within the media mix is becoming clearer. The opportunity is starting to become a staple with brands at the forefront set to reap its benefits.
FEATURED READ: Radio estimated to grow 18.6% in 2021. How to make the most of it.
FEATURED READ: There's no diversity without sustainability in advertising
What do podcasts offer advertisers?
With a myriad of formats, suppliers, and ways of listening, Podcasts can seem like a complex channel.
There are three core format offerings:
Traditional spot/audio adverts usually aired as pre/mid-roll – these can usually be bought by Podcast, genre or audience.
Host/Producer reads – A scripted advert that is read out by the Host/Producer.
Podcast Sponsorship – Like a producer read but usually longer-term and likely to include deeper alignment such as social activity etc.
In terms of suppliers, ACAST is the largest player in the market, followed by Podfront, Audioboom and Sony Music. But despite large investment, there is still a lack of open data or a central measurement point on listening, making it a challenge to work out the true size of the market and the share of market by supplier.
More recently, traditional audio players like Global and Bauer have entered the space, and with Spotify and Apple due to upscale their offering, this shift could change rapidly.
FEATURED READ: Testing the brand response TV waters via regional campaigns
FEATURED READ: Christmas is coming early – capitalising on shopper trends
All Response Media viewpoint
There is no 'one size fits all' solution, and with podcasts growing at a large rate, be sure that you're one of the voices they hear.
Formats
The choice here is partly dependent on objectives and KPIs, but at ARM we have found Host Reads to be a particularly powerful route to market for performance campaigns.
Whilst Host Reads are often sold at a higher CPM, they can offer the opportunity for more immersive advertising, with a greater canvas to discuss product benefits from a trusted host.
Not a million miles away from an influencer-style endorsement, we have had the likes of Ian Wright, David Tennant, Claudia Winkleman and Gyles Brandreth wax lyrical about our brands.
These are the formats most adept at driving a response. Although as with other mediums, that is partly dependent on a strong offer and voucher code.
Pricing
Whilst CPMs remain high compared to traditional channels like Broadcast Radio and Linear TV, we have been able to negotiate some fantastic reductions for clients, particularly on Host Reads where CPMs are usually at a premium.
We've done this by scouring the market, working with some of the smaller suppliers, but mostly by leveraging negotiation.
In some cases, we have managed to drive down CPMs by over 50% which has a huge positive impact on a potential CPA.
Tracking
One of the biggest issues with Podcast activity in the past has been tracking, measurability and the lack thereof. For some clients, we've managed to implement more traditional forms of measurement such as unique voucher/offer codes – these are of course predicated on having the facility to advertise a discount/offer and enable it to be recorded at checkout.
This is not perfect however, relying on a user to use the code and prone to leakage.
To improve this visibility, ARM have recently become the first European partner to work with third-party Podcast tracking specialists in the US – this has enabled our clients to track impressions served, audiences and post-listen actions.
This has the potential to be a real game-changer for Podcast advertisers.
Scalability
The potential scale for Podcasts is growing rapidly, offering the possibility for Podcasts to drive incremental reach as well as efficiency on performance metrics. We have some brands scaling up to DRTV-budget levels monthly and are also working with Podcast suppliers to find more cost and time-efficient ways to increase scale, such as usage of dynamic host-reads.
With revenues fast returning to traditional channels in Q4 and further inflation set to bite, now is a great time to consider ways to broaden your channel-mix.
Podcasts, despite being around for many years, remain an under-utilised tool. Speak to your ARM team for more information and to discuss whether this may be a channel-test worth considering for your business.
Contact us to see how we can launch and amplify your podcasts. Speak to our experts to learn more about whether you should consider to include the medium in your advertising strategy.