Netflix have already implemented their new password sharing policy in Canada, New Zealand, Portugal, and Spain, before they launch domestically around the rest of the world.
Users are to be asked to set a "primary location" for their Netflix accounts and can have up to two "sub accounts" for users who don't live in that household, for a fee. Netflix's planned crackdown on password sharing forces users to regularly connect via their home Wi-Fi.
In recent years, Netflix has become the leading household name in the world of entertainment. With their extensive library of movies and TV shows, the streaming giant has revolutionized the way we consume media.
Over the years, Netflix has benefited from larger subscriber growth and increased prices. Data on the global subscription video-on-demand (SVOD) market showed that revenue more than tripled between 2017 and 2022. That saw the revenue grow from 25 billion U.S. dollars to 99 billion U.S. dollars. Further rapid growth is predicted to continue in the future, and by the year 2028, the revenue is expected to surpass 124 billion U.S. dollars.
Despite this, one issue that has long plagued the company is password sharing. To combat this, Netflix announced a crackdown on password sharing initially in February in Canada, New Zealand, Portugal, and Spain.
The company had previously tested paid sharing in select markets, including Chile, Costa Rica, Peru and elsewhere in Latin America. It's expected these changes will be implemented for rest of the world in the coming months, including the UK and US. However, an exact date is yet to be confirmed, this blog post takes a closer look at this development and what it will means for UK subscribers.
Sharing is caring…
First, let's start with the basics. Password sharing is the practice of sharing your Netflix login credentials with friends or family members who don't have their own account. While this may seem harmless enough, it triggers significant financial implications for Netflix.
The company's revenue is largely based on subscription fees, and every account that is shared between multiple people represents a potential loss of revenue. Some estimates suggest that password sharing costs the company billions of dollars in lost revenue each year. According to a study by Leichtman Research Group 33% of Netflix subscriptions are shared outside the household.
Ironically, Netflix tweeted in 2017 'Love is sharing a password.'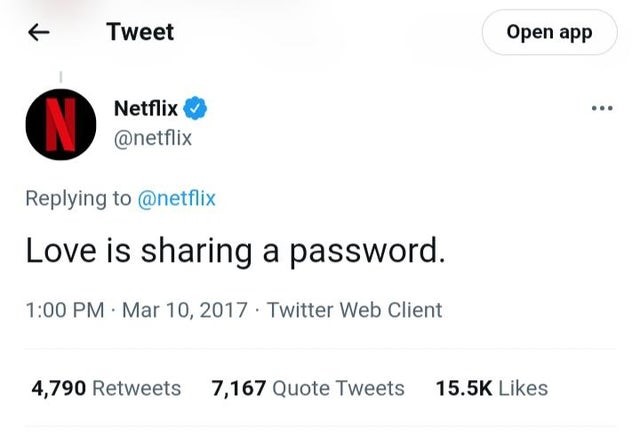 How will Netflix stop password sharing?
In a report sent to shareholders in January 2023, the streamer said: "While our terms of use limit use of Netflix to a household, we recognise this is a change for members who share their account more broadly."
The new policy means that users can no longer freely share Netflix accounts with their friends. Netflix users will only be able to share the with people living in their household. The aim of these changes is to ensure that more people are paying for their own Netflix accounts, and that Netflix users are only accessing content they are paying for. This could help Netflix to increase its profits as well as reduce piracy on the streaming service.
A new Manage Access and Devices page will be available in account settings to track what devices are signed into an account and where. Up to two sub-accounts can be added to an account for people living in different households to keep all their details. A sub-account costs significantly less than a full Netflix subscription and is only $7.99 a month in Canada, compared to the full price of $9.99.
Will Netflix lose subscribers?
Netflix already was thought to have lost about 500,000 UK subscribers in 2022 according to the research firm Ampere Analysis.
The subscriber loss is a result of 'increased competition from other streaming services, adverse global economic circumstances, and the fact that the company already has a very high level of subscribers," says Ferran G. Vilaró, CEO of streaming video analytics company NPAW. Rivals such as Apple, Amazon and Walt Disney and illegal streaming chip away at its audience. Amazon Prime Video gained 12 million to 12.3 million accounts in 2022 with the launch of the world's most expensive TV show, Lord of the Rings spin-off The Rings of Power, which cost an eye-watering $465 million (£336 million).
Based on the trial of the new password sharing policy in selected Central and South American countries, Netflix are anticipating a negative impact short term, but success in the long term.
Netflix stated, "As we work through this transition – and as some borrowers stop watching either because they don't convert to extra members or full paying accounts – near term engagement, as measured by third parties, like Nielsen's The Gauge, could be negatively impacted. However, we believe the pattern will be like what we've seen in Latin America, with engagement growing over time as we continue to deliver a great slate of programming and borrowers sign up for their own accounts."
FEATURED READS
Get in touch with our SEO team
Find out how we can combine digital and data science expertise to give you the unfair competitive advantage.
ALL RESPONSE MEDIA SERVICES