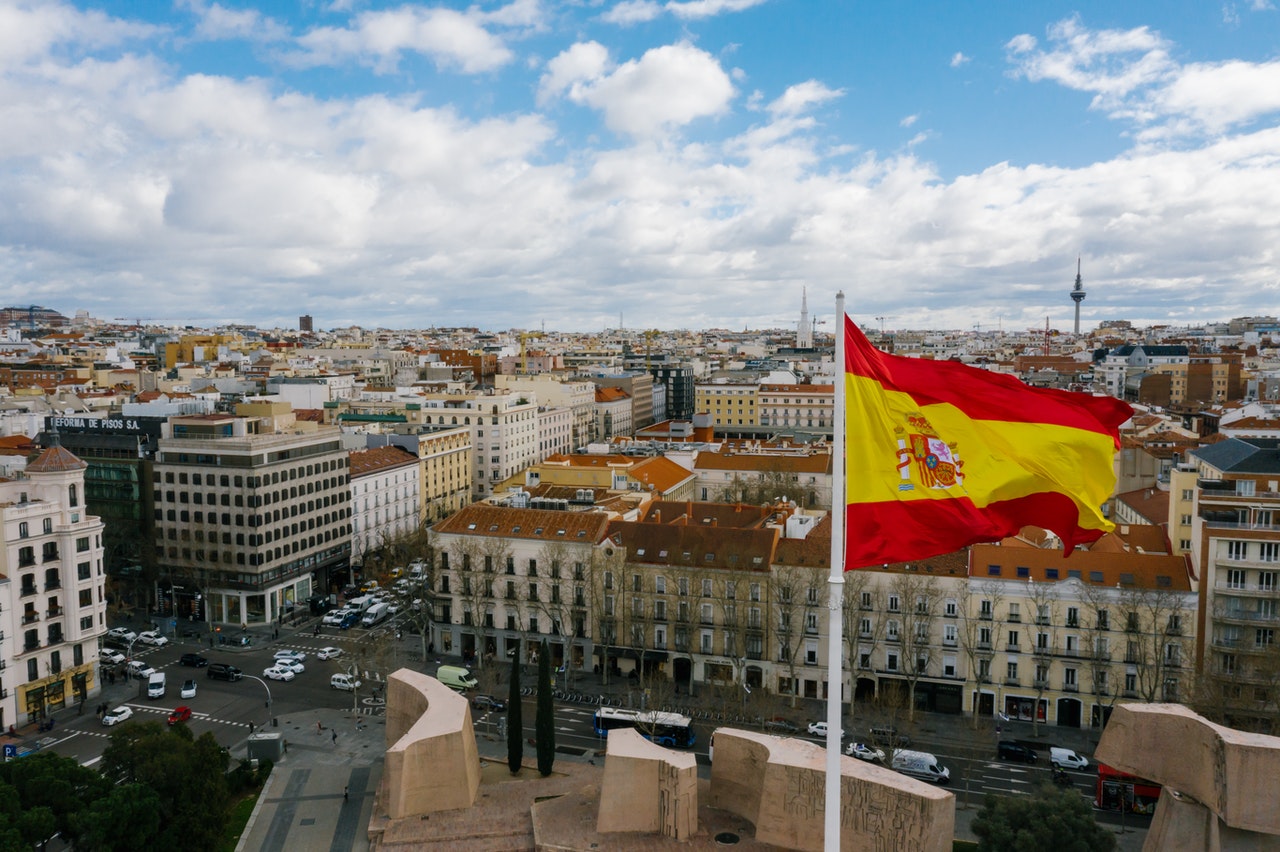 Spain provides an excellent set of TV and media advertising conditions to quickly gain market share and ensure growth through specialist media planning.
Posing a commerce opportunity with a population of almost 47 million, Spain is the fourth most populous EU member state and also ranks fourth for GDP; an important part of the European market and essential to consider as part of your European expansion plans.
The Spanish TV advertising landscape
Cost/GRP Index Fluctuation by Months
2020 vs 21 and 22 predictions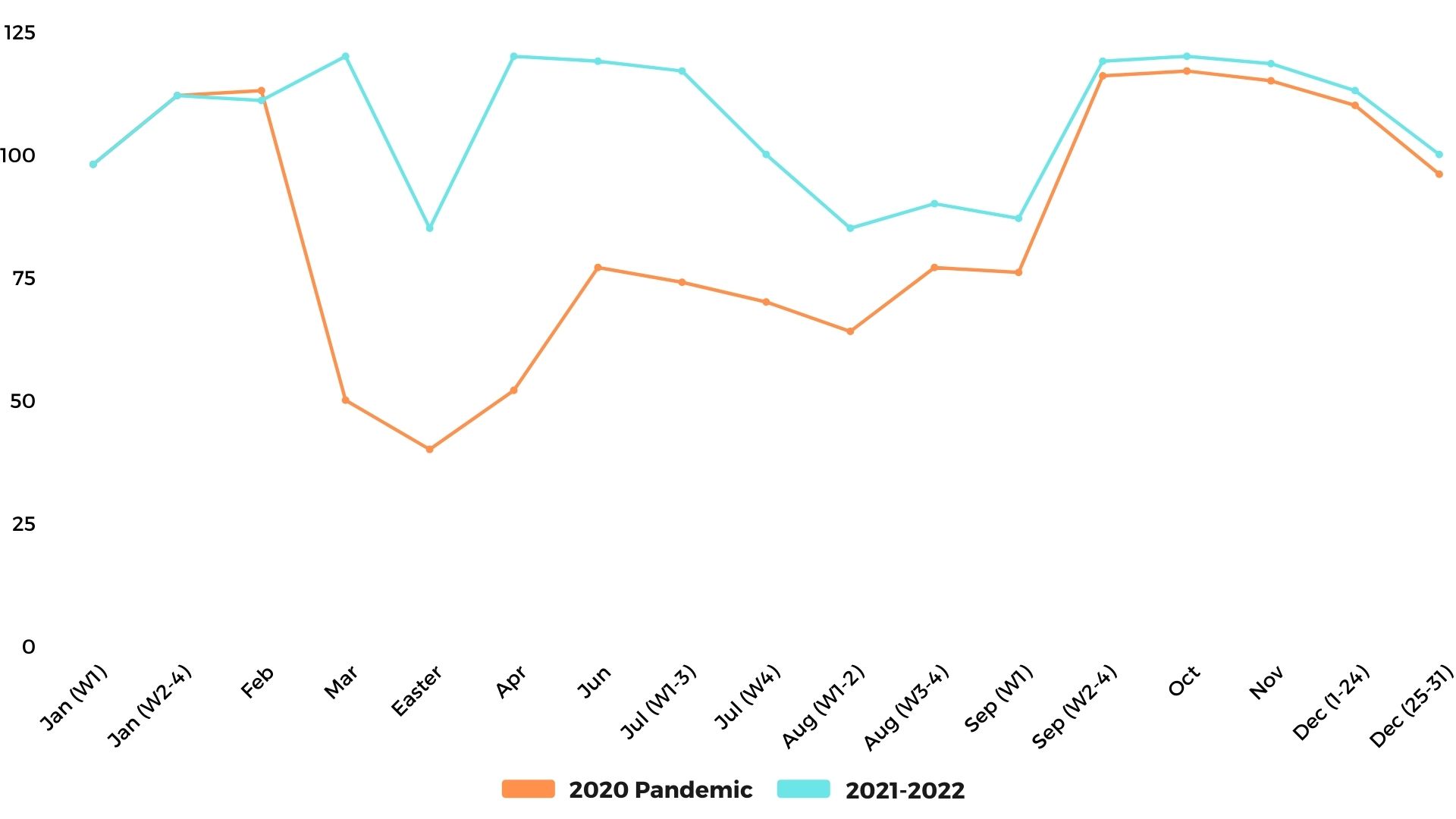 Lowest cost months
Easter, August, Christmas
Highest cost months
Mar-Apr, May-Jun, Oct-Nov
The Spanish media advertising landscape
There are 2 large sales-houses in Spain; Mediaset (covering the main commercial channels; 5, Cuatro etc) & Atres Media, with 57% of viewership between then. However, smaller sales-houses tend to offer cost-efficient opportunities. 'Pulsa' provides packages across a collection of reality/niche stations, whilst airtime on sales-houses like 'Movistar' (collection of smaller-mid reach stations mainly covering drama, series and movies) is bought on a cost-per-spot basis – meaning rates are fixed (advantageous particularly during periods of high viewership, when relative CPTs are decreased).
224 total TV stations including regional & public stations – Spain has the fourth-highest number of stations in Europe, allowing a competitive, low-price landscape and greater opportunities to target and optimise.

Booking deadlines tend to be roughly 3-4 weeks in advance and are fairly flexible. There is potential for late deals, particularly during under-invested periods (e.g Easter, post-Christmas, lockdowns), significantly driving down pricing.

Seasonal trends are primarily in line with other markets – cheaper post-Christmas and during the summer. There are additional opportunities for DRTV advertisers around Easter, where pricing drops below post-Christmas levels – often balancing out any potential decrease in response.

Creative is approved through 'Autocontrol' and takes 3-4 weeks to clear It is mainly only used for heavily regulated sectors like finance and gambling, regulations are similar to Clearcast in the UK.
All Response Media delivered a TV and media advertising response in Spain
One advertiser saw CPAs decrease by almost -50% during the last month on air, compared to launch in January 2021. Another advertiser saw CPAs decrease by an impressive -70% between launch in January 2021 and their most recent campaign this summer.
Both case studies are testament to the agency's ability to effectively create, learn and optimise plans in the region, and internationally, to help brands make smarter business decisions.
Spain has become an essential and lucrative market for client media planning and spending.
FEATURED READS
All Response Media Viewpoint
Using advanced international data expertise and strategy to identify market conditions that deliver optimal TV and media advertising results is essential when testing or expanding internationally.
If your business is active in European markets, or you are considering expanding, take a market and media neutral approach. This allows you to fully assess the market as it stands, recommending plans that exploit nuances, enhancing efficiency, testing and learning to improve results and scale your business.
All Response Media run advertising campaigns across Europe through our Amsterdam offices, including high-potential markets like Spain.
Spanish TV and media advertising: Spain is a market that combines low pricing, a significant population and a DRTV-friendly TV buying landscape. Use package buys to push down price and have a high potential for optimisation.
Contact us if you are interested in launching in Spain, or would like to grow your business and further explore your options in Europe.