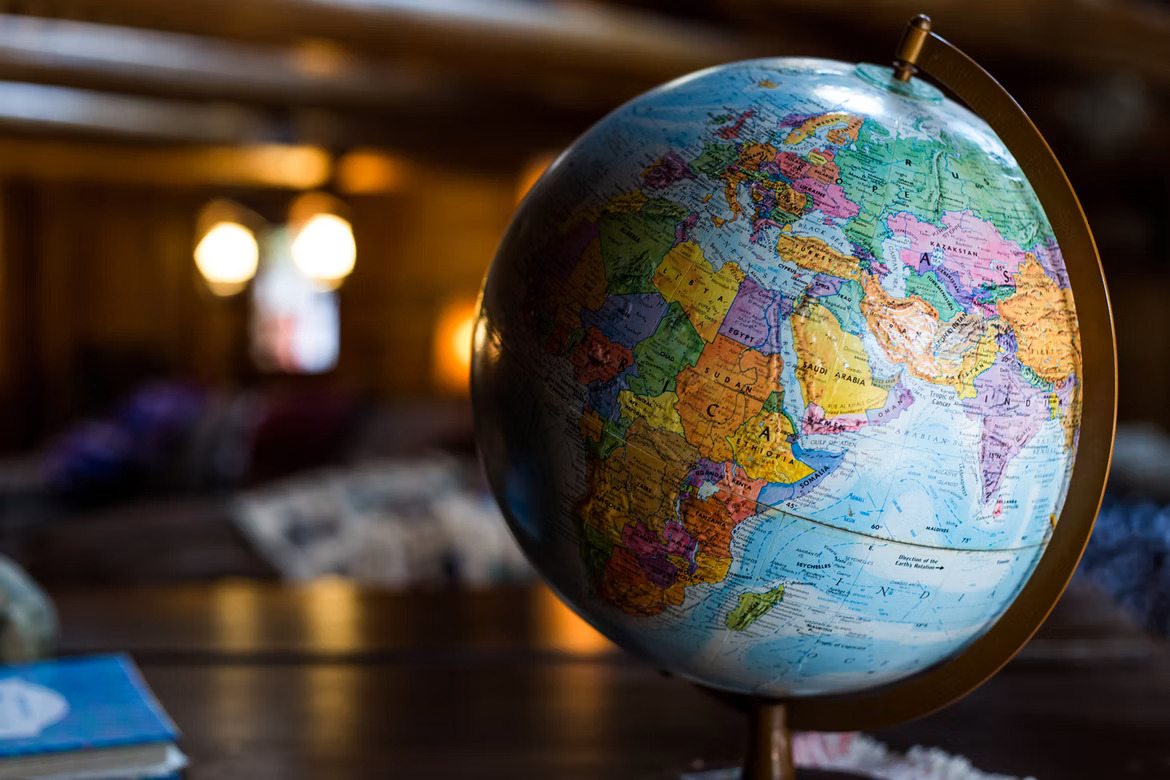 New figures from Conviva (Q4 2021) reveal that Europe experienced a 20% increase in streaming viewership year on year. Southern Europe had a 44% increase whilst Western parts followed closely behind with a 34% increase.
Streaming boomed during the pandemic as people were spending more time at home, wanting a premium viewing experience.
Big screens remain popular
'Big screens' like smart TVs, gaming consoles, and connected TVs were clear winners in terms of viewing preferences, accounting for over half (68%) of total viewing in all European regions. Samsung accounted for the majority of this share with 19.5% viewing time, whilst Android TV and Amazon Fire TV were very close at 12.6% and 12.3%, respectively.
Desktops, mobile phones, and tablets were all only one percentage point apart with around 10% each. It seems Roku, a company offering access to streaming media from online services, proved to be more popular outside of Europe with 31.8% global share, but just 5% of Europe's big screen viewing time.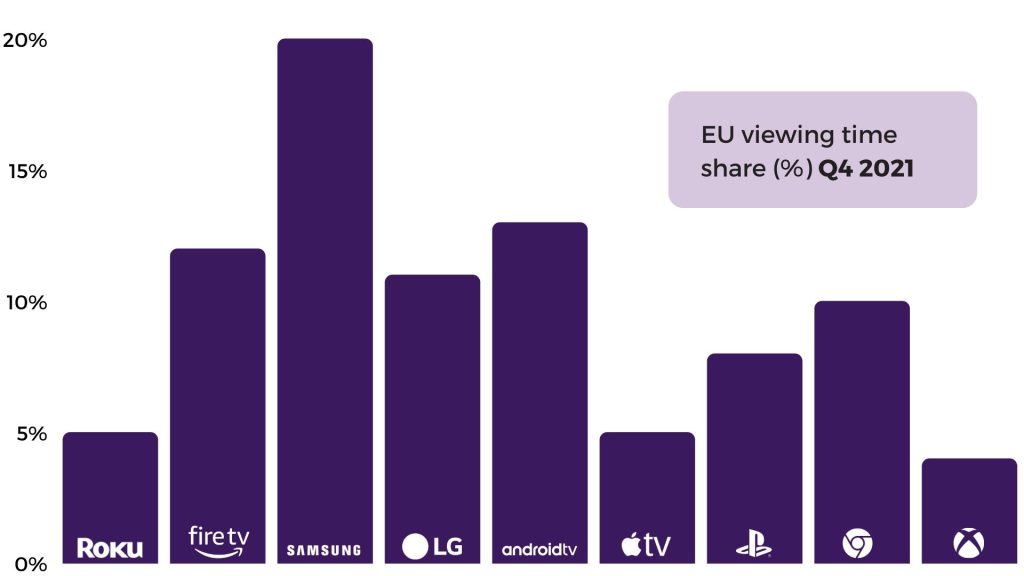 Big screen viewing across the globe
Big screens continued to dominate viewership both in and outside of Europe, commanding over 50% share in every region apart from Asia. Despite not overtaking the halfway mark, big screen viewing in Asia did still grow throughout the year, up from just 14% share in Q3 2021, to 27% in Q4 2021.
Globally, Roku, Amazon Fire TV, and Samsung TV took the lead in terms of of big screen viewing time. However, this picture did change regionally for Roku, with everywhere but North America having single-digit share. Roku did prove popular with viewers in North America, with almost half (40.5%) share.
Samsung carried the highest share of viewing across regions: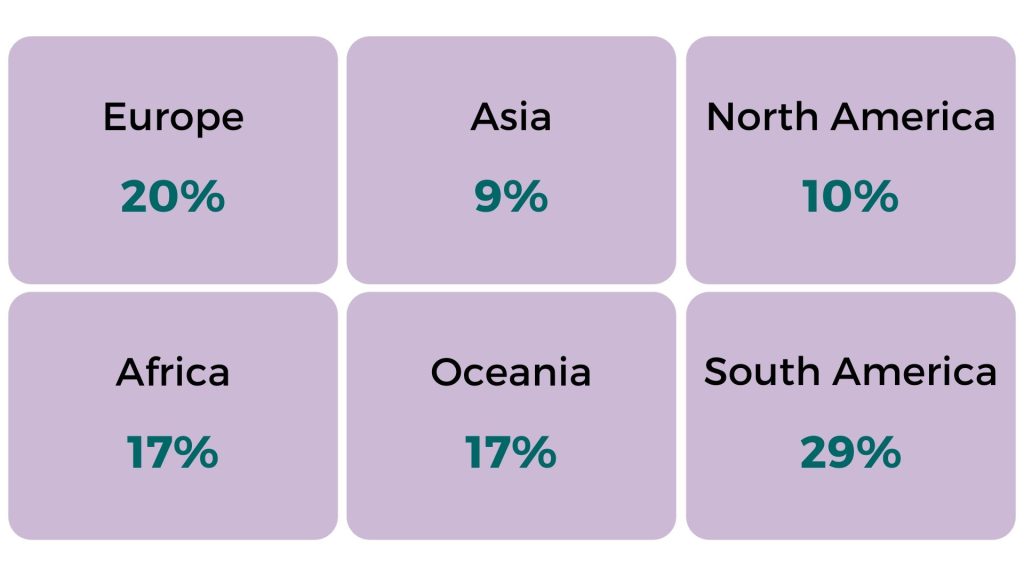 FEATURED READS
Roku had the lowest share in Asia, with just 0.2%, whilst Android TV took the lead in Asia with over 50% share, and Amazon Fire TV was the next best choice with 18.6%. In fact, Amazon Fire TV performed better across the globe in general, with a double-digit share again in North America (18.4%) and Europe (12.3%).
Chromecast, Android TV, and Samsung TV were the top three options in Oceania, and were separated by a very small margin:
Finally, South America favoured Samsung TV, with almost 30% of the viewing share.
Video quality has improved, but start times have increased
Despite increased viewing and improved video quality, for the most part, the report also reveals that consumers in Europe and worldwide are having to wait longer for their content to start streaming, with waiting time increasing by 14% in Europe overall. Consumers were also waiting longer for ads to start, with waiting time increasing to 2.6 seconds as a result of technical issues.
Despite having the lowest video start time globally, Europe saw a 13% increase YoY. Europe also saw declines in buffering and video start failures, with an increase in bitrate.
Whilst increased start times may cause challenges for viewers, it is often the case that streaming providers will sacrifice start times for things like improved buffering and bitrate – to actually improve the overall viewing experience. This could be the reason behind this global trend, as this data shows that every region has recorded improved quality alongside the longer start times.
Based on Conviva's findings, it could also be the case that as more regions continue to shift toward smart TVs, there may be longer wait times but improved picture quality overall.
Keith Zubchevich, president & CEO, Conviva said:
"Like many other regions, Europe is not only holding onto the significant increase in streaming adoption it saw during the pandemic, but also continues to experience quarter-over-quarter growth as the pandemic begins to fade," said Keith Zubchevich, president & CEO, Conviva.
As the streaming market in Europe matures and viewers have more content choices, more freedom to decide how to view that content across various devices, and more options between paid or ad-supported channels, the need for continuous measurement and accurate engagement data is imperative."
All Response Media viewpoint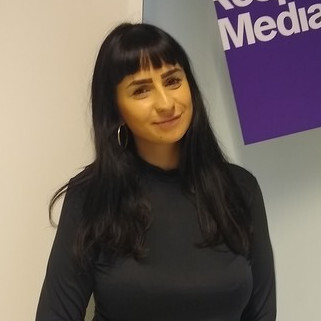 "Streaming is certainly growing quickly and will undoubtedly contribute to a changing video landscape long term. From a media buying perspective, however, in most markets, we still only see 5% of total video viewership on ad-funded streaming platforms, and TV maintains 80%+ total reach. "
Catherine Booth
International Business Director
Media buys on TV streaming platforms tend to come at higher costs, with CPMs often 5-6x higher than TV in most European markets, and whilst broadcasters and streaming companies are offering more interesting products (increased targeting capabilities, interactive formats, click-through potential) and increasingly higher quality reporting, the limited reach and high-cost mean streaming should usually be an addition to your media-mix, adding reach to niche audiences and working best in tandem with TV.
FEATURED READS
Contact us to see how we can use our advertising capabilities to maximise sales and the overall success of your TV campaigns.