With the Christmas period closing in, some major advertisers like Marks & Spencer, Boots and Centrepoint have been experimenting with the benefits of QR codes.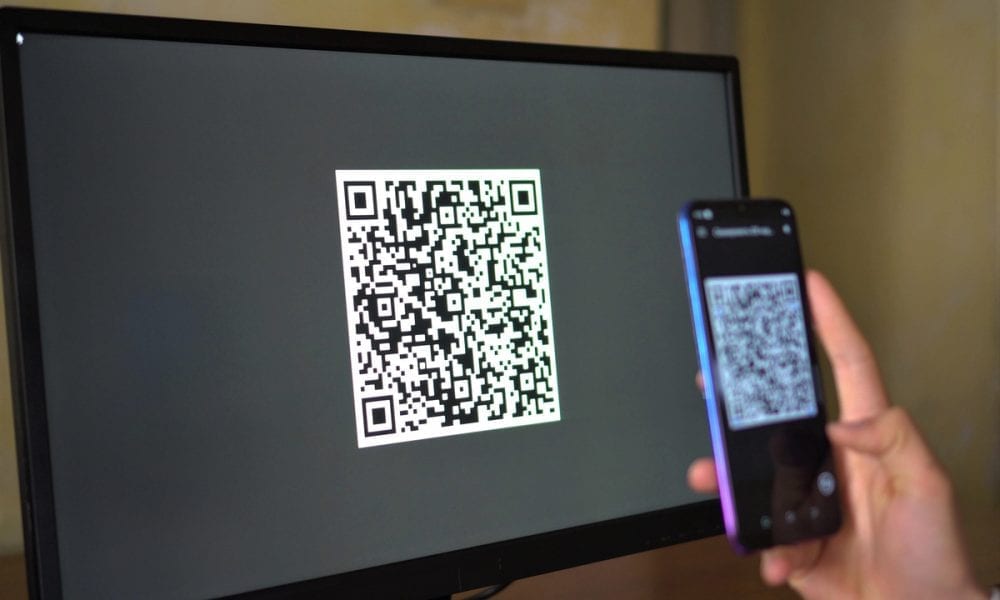 Advertisers tapping into QR codes during retail peak period comes as no surprise – as they provide a way of converting (and tracking) offline engagements to online conversions.
A QR code can take a TV viewer directly to an online sale or promotion, essentially acting as an on-screen shop window for advertisers, and crucially, helps them to avoid the 'google tax' which applies if people click a PPC ad when they respond to a TV advert.
The impact of the use of QR codes by the NHS track and trace has provided the breakthrough that had previously eluded the QR code.
Use of QR codes 2019-2021
Capitalising on the 'second screen'
Using a 'second screen' has been the norm for TV viewers for years, with the majority of consumers likely to be typing, tweeting, or scrolling at some point whilst watching TV.
But is this disrupting the viewing experience, and how does it impact advertisers, if at all? 
According To ThinkBox, 67% of adults multi-screen each week and 57% of 'multi-screeners' agree that they stayed where they were and waited for the programme to restart during the ad break.
Whereas having another screen to look at could be seen as a distraction from the advertising, what we actually see is the second screen keeps them in their seat…and makes them more likely to stay in the room and watch the adverts.
% agreeing with each statement
So, if the advert is attention grabbing enough, causing people to look up, there's a good chance they'll be able to snap the QR code…and avoid the dreaded 'google tax.'
Love Island and shoppable ads
Back in July, Love Island saw viewer ratings drop from a high of 5.9m viewers in 2019, to an average of 2m-2.5m in 2021.
The show did, however, remain a commercial success. One of the more significant developments being their shoppable TV ad, allowing viewers to shop items directly from the screen.
Boots were the first brand to test the service, being the official sponsor, testing QR codes in TV advertising well in advance before rolling out its QR Christmas ad.
The interactive system used tags to identify featured products during a programme, notifying viewers when on-screen products are available.
Viewers could then use their remote to find out more info or make a purchase.
Other shows which top the list of 15-34s who have used a mobile phone to scan a QR code or tap an NFT Tag on an ad include:
The Simpsons 31.4% (169 index)​

Family guy 30.8% (196 index)​

Love island 28.6% (204 index)

Read more on Love Island shoppable ads.
This development came shortly after the launch of Sky's "shoppable" pilot in May 2021, which according to Sky Media Capability and Strategy Director, Dev Sangani, was said to enable advertisers to add QR codes directly into TV advertising, and "deliver a seamless customer experience" directly from the TV screen to a brand's website or online destination.
"We saw ads that carried a QR code call to action generate a 50 percent increase in product page visits, 40 percent higher conversion rate and a 19 percent reduction in cost per conversation," he said.
In order to give this reported increase some meaning we would need to know the baseline of the product page. These numbers are likely to be based on a product page with very few visits previously, which could account for a high % increase in visits.
A higher conversion rate is to be expected though, as if a person goes to the effort of using the QR code on a TV ad, they're likely to be a motivated visitor.
Whilst testing QR codes could be part of your testing matrix, we would advise that we plan to the CPV metrics which we can measure and report on within ARMalytics, and consider any QR driven visits as an extra, rather than counting on it to achieve a target, until we can quantify the impact.
FEATURED READS
The influence of the pandemic 
Sky commented on an expected increase in QR code usage following the pandemic, saying that this could be a "long-lasting trend".
Video Week take a narrow view, stating that "introducing shopability into the linear TV environment, where viewers don't always have a remote in their hands, has historically proven difficult".
It is undisputable that the red button was a total abject failure, although this could be down to smart phones, which offered much better functionality, without people having to use the clunky red button and TV remote.
At All Response Media, we've known that shopability has been a massive part of the TV advertising environment for years – and our flagship tech solution capitalises on this, by measuring TV shopability.
QR codes back into the mainstream
So whilst shopability is not new, QR codes provide another option for people wanting to buy something immediately after seeing the advert.
Developments in smartphones cameras mean that they will now automatically recognise and scan them, which removes a barrier to use.
The Covid-19 pandemic has brought QR codes "back into the mainstream" (Source: Video Week) – "QR has been around for a while, but the pandemic has brought them to the fore with 'Track and Trace'."
They have become embedded in consumers' routines and some advertisers are evidently starting to find new ways to tap into this and integrate them into campaigns. 
FEATURED READS
Boots Christmas campaign with QR codes and Ad Smart targeting
Boots launched their new Christmas ad for the first time earlier this month on ITV. The campaign, "Bags of Joy" will feature on TV, radio, digital, OOH, print, social and in-store. 
The ad 'reignites' the magic of the holiday season, following Joy, who is gifted a bag of seemingly endless gifts. Pete Markey, Chief Marketing Officer at Boots UK, said:
"To reach our customers wherever they may be, we have a full marketing plan to ensure they can experience that Christmas magic across every touchpoint. Whether they are scrolling for festive inspiration on Instagram, flicking through a magazine, or relaxing in front of the television."
The campaign will feature a "media-first partnership" with Sky Media, embracing the benefits of shoppable TV advertising. These ads will include QR codes that drive consumers directly to the Boots website to make a purchase.
Boots will also utilise AdSmart targeting and first-party data on over 18 million consumers with a Boots Advantage Card to retarget customers. 
It's not uncommon for viewers to be 'multi-tasking' while watching TV, but it seems a younger demographic in particular, are using their smartphones or tablets to respond to what they see.
Viewers between the ages of 25-44 are more likely than those aged 45-64 to use the internet whilst watching TV, make an online purchase after watching an advert, and comment on social media about the TV programme.
M&S using QR codes for the first time in Christmas campaign 
M&S's Food and Clothing, and Home Christmas campaigns were released across multiple platforms from November 4th with their first ever custom QR code appearance.
M&S is the first UK retailer to embed a custom QR code from Flowcode – a specialist platform or TV and connected TV.  
Both campaigns aim to tap into recent M&S research showing that 39% of families in the UK "plan to do more to mark Christmas than they did before the Covid-19 pandemic", while 68% of people "plan on getting together for a big family Christmas this year".
Undoubtedly, QR codes have become more accessible and 'easy' for consumers to use as a response, as well as being normalised since the pandemic.
But advertisers must still think carefully about where QR codes work from a consumer's perspective and where they will be most effective.
All Response Media viewpoint
Both direct response and branded businesses are increasingly making their QR code presence known on linear and broadcaster video on demand (BVoD).
When looking to test a brand response, particularly per region, amongst a group of ads, using QR codes which lead to specific landing pages (which can be customised by Sky's AdSmart to target different regions with different products) can be used to measure interactive engagement from viewers, tracking offline engagements to online conversions.
Although common in OOH advertising, QR codes are still relatively new when it comes to TV advertising.
Currently, All Response Media are actively experimenting responses with a select number of clients. Even though the tactic has seen some resurgence, the ads which display a QR code could foster some greater brand recall and prompt a response when TV campaigns reach target audiences multiple times throughout the campaign.
FEATURED READS