The current emphasis on climate change within advertising is significant, with COP26 concluding its strategies, and the pandemic arguably bringing wider focus on a better, healthier world (Source: BBC).
Although it's been a pressing issue for some time, sustainability is now at the top of the agenda for many advertisers and brands.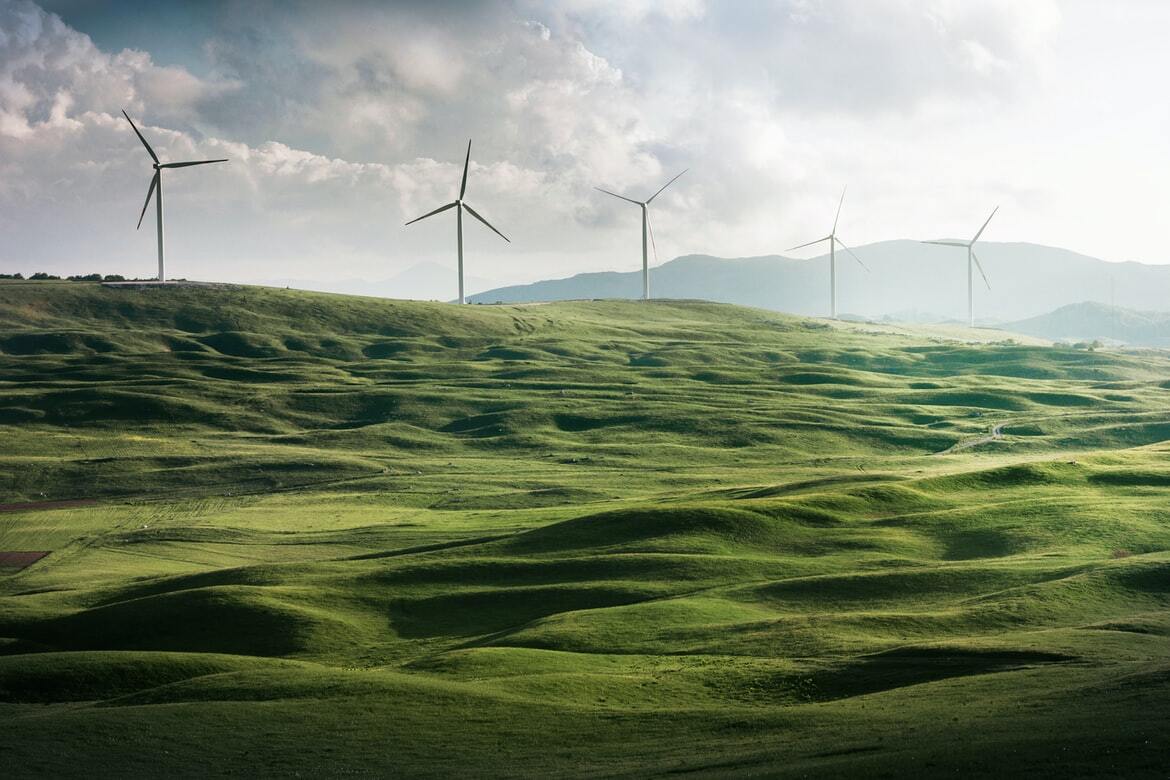 Sustainability hasn't left people's minds, despite the uncertainties and financial insecurities caused by Covid-19. In fact, 82% of consumers agree that issues around sustainability are more top of mind now than before COVID-19 (Source: Think With Google). Plus, a study by Kantar reveals that there has been a 4% increase in 'eco actives' and an 8% decrease in 'eco dismissers' since the pandemic. 
Actives are twice as likely than the next group to do these actions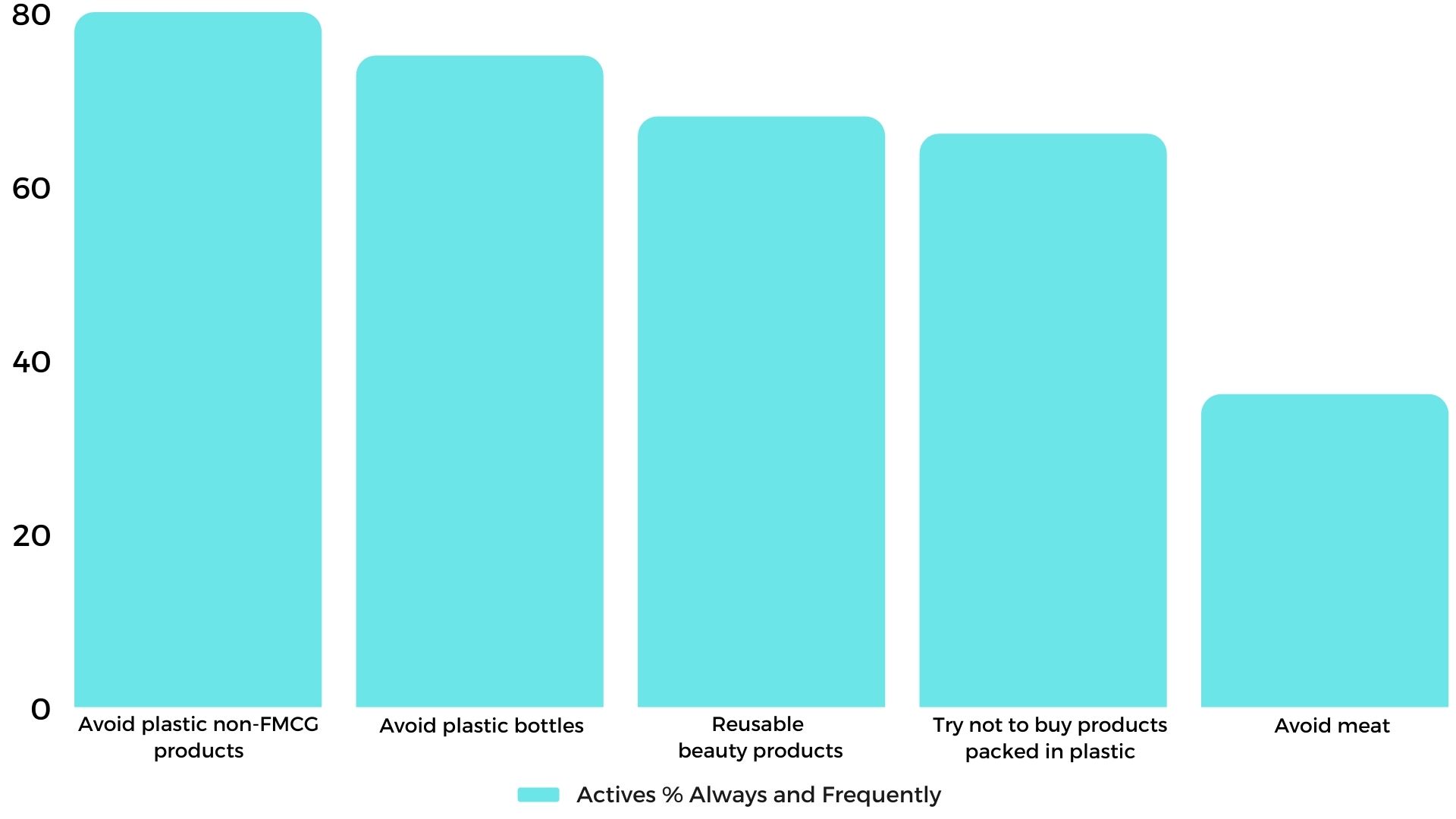 As consumers are becoming more engaged in the need for change, advertisers should be addressing how they are contributing to a more sustainable future sooner rather than later. All too often regulation is imposed once we hit a crisis point, which either creates problems for businesses as they try to work with them, or they are not well thought through, and impact is limited. (Source: CIM, 2021)
 Pivot with purpose 
As consumers appear to be more concerned by the climate than ever before, brands may need to re-examine how they are tackling sustainable marketing and resonating with their audience.
CIM's Chief Executive, Chris Daly, believes there is a growing need for marketing "with a purpose". "Marketers have been at the forefront of helping the nation adapt to the strictures of lockdown, and in doing so have built stronger relationships with consumers," he explained. 
The pandemic alongside COP26 has created a unique opportunity for advertisers to pivot quickly towards more sustainable initiatives. Essentially, the climate is a big issue for advertisers because it's a big issue for consumers. Brands without a sustainable development plan are likely to see their customers disengage.
FEATURED READS
Greenwashing: a growing concern
Marketing has a key role to play in the world's transition to a 'net zero' future. But how can advertisers ensure their efforts aren't being interpreted as tokenism?
Advertisers are left treading on eggshells among multiple "greenwash" backlash cases. The CIM has revealed fresh insight into the challenges that UK advertisers face when attempting to promote their green or eco-credentials.
More than half (55%) of marketers and clients recognise sustainability as a business priority. However, almost half (49%) of marketers have also admitted to being wary of working on sustainability marketing campaigns, fearing their business or clients will be tarred with the "greenwashing" brush (Source: CIM, 2021).
% of adults who agree that companies tend to over claim their green credentials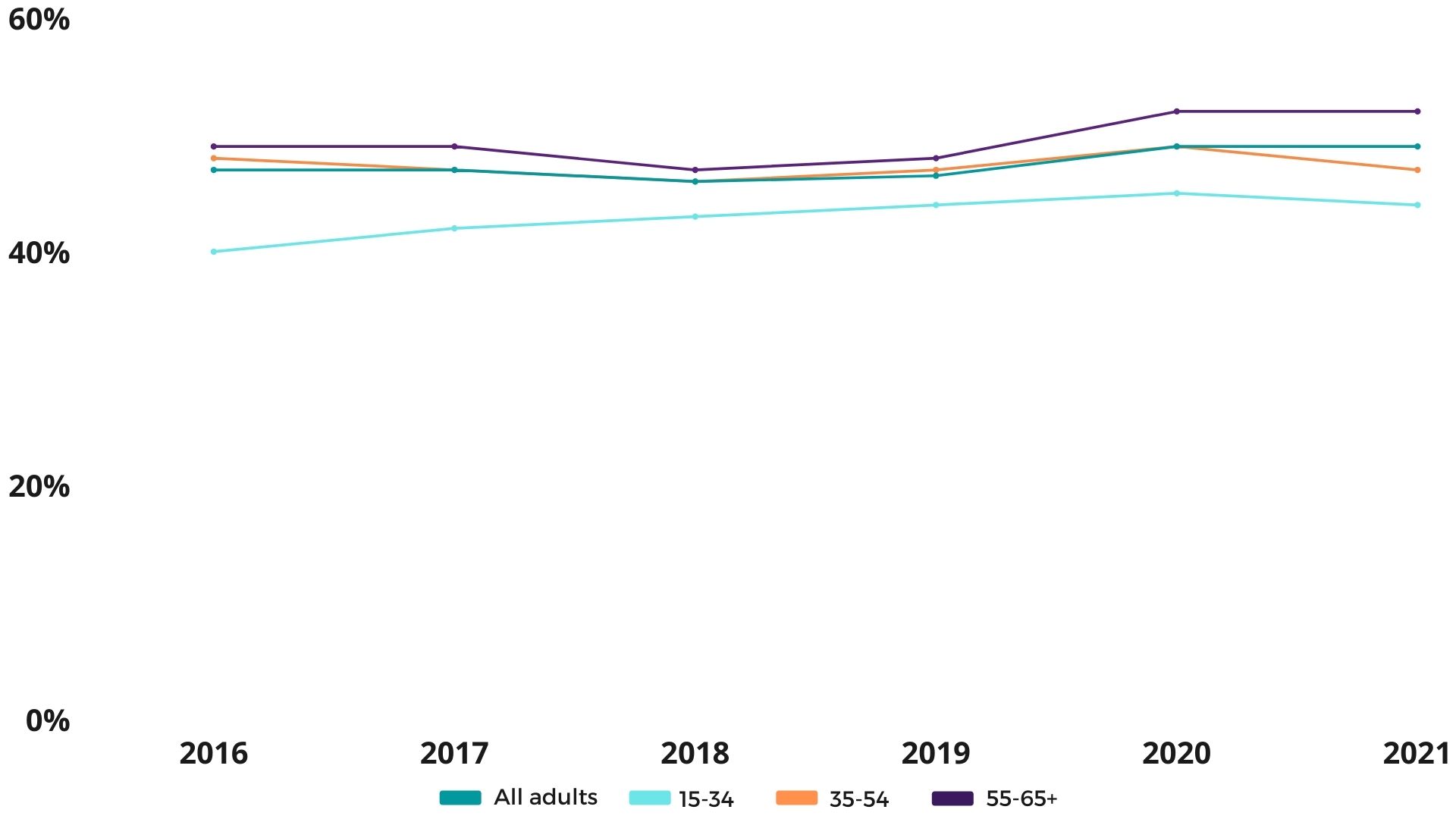 So, what are consumers really looking for? Research by Quick Fame suggests three factors that could increase the effectiveness of green ads: ​
Positive tone​

Making climate change feel close to home​

Embracing story over statistics​ 
Google has also been looking into ways brands can talk about sustainability without running the risk of a 'greenwashing' backlash, agreeing that advertisers "don't get people there with data and fear alone" but "get them there with storytelling". Google shared the following key strategies for advertisers:
Changed behaviour

Avoid piggybacking on the latest crazes

Compromise by introducing "baby steps"

Bring new ideas to inspire consumers
Cutting down on advertising products that damage the climate
Where do advertisers stand on the marketing of products that could harm the planet? Plans to ban junk food TV advertising before 9pm in 2023 were revealed earlier this year, and new research from the CIM suggests leading marketers agree that the promotion of high-carbon products should also be regulated.
Despite greenwashing concerns, 76% of marketers agreed that there should be similar restrictions for products that have a damaging impact on the environment as there is for tobacco. Marketers recognised this as the biggest issue, closely followed by the promotion of gambling and products aimed at children.
Support for similar levels of marketing restrictions as for cigarettes
DPD look to TV to show COP26 how they are looking towards a greener future
DPD have been on a journey to a more sustainable business for some time now. The increased awareness of environmental issues highlighted by the recent coverage of the COP26 conference in Glasgow, presented an opportunity to show both business owners and consumers that DPD are taking this very seriously as a business.
We delivered 30M adult impacts around key contextual programming and content targeted to the clients core audience. We identified parts of the schedule that would be more focused on content related to discussion/debate of the topics that were being raised throughout the conference.
All Response Media Viewpoint
Whilst the debate on the 'true' commitment on the move towards net zero continues, it has to be viewed as a positive that commercial businesses are reacting to consumer sentiment. Advertisers such as DPD are actively developing strategies to reduce their carbon contribution and as such are more committed to the cause than many governments. It is only right that they should shine a light on their efforts for a number of reasons.
Of course, it helps any commercial business to lean-in to consumer sentiment as it helps to maintain and grow their revenues.

TV is a powerful tool to raise awareness of a cause and with many businesses pushing the green agenda, it helps to keep pressure on government to increase the scale and pace of change.

For DPD specifically, their efforts to be more sustainable have a direct impact on many other small businesses who use their services.
This campaign (and others) is not designed as a full stop or 'pat on the back' but an effort to maintain and grow the momentum towards a more sustainable future for our children. The commercial imperatives are certainly less of a focus but the early adopters who take these risks are normally the ones who get the greatest reward in the long term.
FEATURED READS
Contact us to see how we can use our TV advertising capabilities to grow your online-born business.