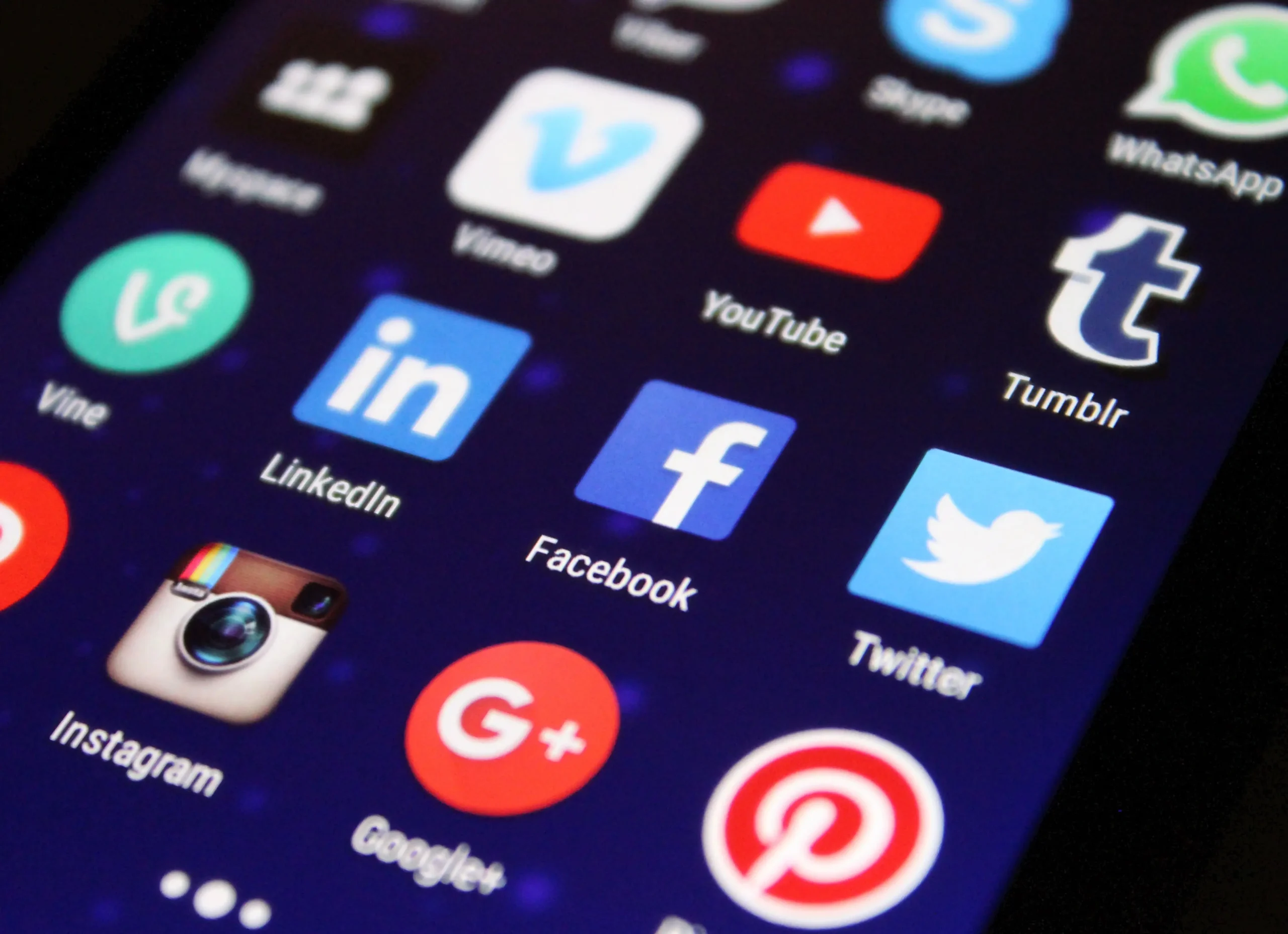 TV
Digital
2023 Viewing and Revenue Predictions
WARC predicted in July that Linear TV revenue would be down -5% YoY in 2023 (down from the original prediction of -0.4% )​ and over all broadcast at -1.4% with +17.3% YoY growth for BVOD​.
However, our latest estimates for the overall linear TV market predicted this is more likely to be between -6% to -7% down YoY.
The YoY revenue recovery the Saleshouse estimated for H2 hasn't been as high as first predicted; H2 is currently estimated between -3% and -4% YoY (versus -11.5% n H1) however, this is off a lower base after the revenue declines in H2 2022.​
September viewing is up YoY with the Rugby World cup boosting viewing on ITV1 and over on Sky; Sky News, Sky Sports News and the Channel 5 stations all seeing significant impact growth YoY.
It's not too late to take advantage of the softer market:​ Whilst the demand for impacts increases in the Autumn on the run up to Christmas, the broadcaster's still have a hole in their revenue from H1 they want to recover – as such there are still opportunities for late bookings and to leverage additional spend investment in Linear and BVOD across the autumn– please speak to your All Response Media team for more information.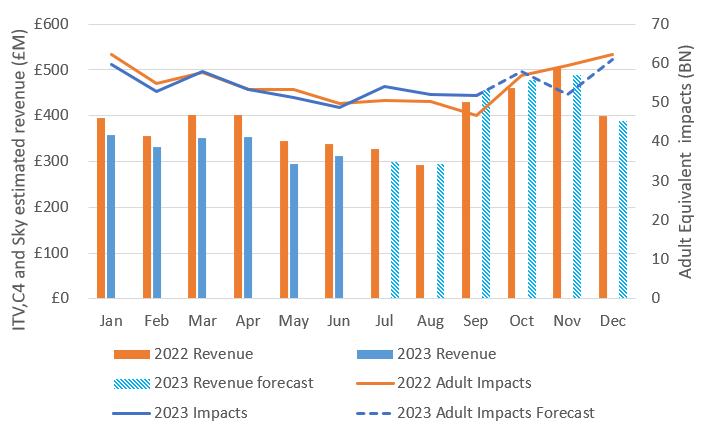 Sponsorships cheap £CPTs
Sky are offering short term channel partnerships across November – January 2023/2024 with incentivised £CPTs as cheap as £0.62. As these properties are in the late market there may also be room for further negotiation.
This is a great opportunity for brands with smaller budgets who would like an 'always on presence' across their favourite Sky channels during the busiest time of the year leading up to Christmas.
NOW Christmas:
This is a full channel sponsorship running from 8am to 3am for just £10,000. The opportunity is great for brands who want to associate themselves with the feeling of festivity in the lead up to Christmas day and New Year. The sponsorship is expected to reach just under 3.2 million Adults across the 3-month period for a £CPT of £1.91.
Discovery Duo Package:
This sponsorship runs across Discovery Science and Discovery Investigation from 6am to 12am which can now be accessed at a –88% discount making it just £55,000. Across the package, the sponsorship is expected to reach 3 million adults with a £CPT as low as £1.67.
CBS Reality & RealityXtra:
Sky are offering a primetime sponsorship (6pm-12am) in partnership with the CBS Reality stations for an incentivised price of £90,000. This is a huge discount of –95% off the full media value which is expected to reach 5.2 million adults across the 3-month period . This is ideal for brands who want to access primetime TV at cheap £CPT which is as low as £0.62.
Music Mega Package
With a –91% discount off full station price, Sky have a full channel sponsorship across NOW 70s, NOW 80s and Clubland. For an investment of £40,000, brands have the chance to reach over 4.6 million adult viewers with an incentivised £CPT of £1.16. The partnership will run from 8am to 3am and so this sponsorship will give a brand an always on presence across Sky's music channels – just in time for the festive season!
For more information on the opportunities available, please contact your All Response Media team.
Rugby World Cup
The Rugby World Cup 2023 is being hosted by France and broadcast on ITV, the tournament started on 8th September, with the final coming up on 28th October.
Semi finals
The semi-finals were played on weekend of Friday 20th/Saturday 21st attracting some big viewing figures for ITV​ – Peaking at 4.7 million viewers and accounting for 22% share of linear viewers. Friday night's game saw New Zealand defeat Argentina. ​
On Saturday, England was knocked out of the tournament by South Africa with the game peaking at 8.4 million viewers, making this ITV's biggest linear audience in 2023 (beating both Britain's Got Talent and I'm a Celeb… South Africa).​
Although the audience is predominately men, viewing across the Semi-Final games was made up of 42% women viewers, 14% of viewers were 1634, and 69% ABC1 adults. ​  
What television investment options do you have in the lead up to Xmas?
Helen Grey
Leeds Business Director
"It's not too late to take advantage of the softer market:​ Whilst the demand for impacts increases in the Autumn on the run up to Christmas, the broadcaster's still have a hole in their revenue from H1 they want to recover – as such there are still opportunities for late bookings and to leverage additional spend investment in Linear and BVOD across the autumn."
X Embraces Google to Enhance Ad Revenue
X is partnering with Google Ad Manager (GAM) to boost ad revenue and stabilise its position after Elon Musk's acquisition. This move is crucial for X's advertising revival. They'll use GAM exclusively for ads on users' main timelines.
GAM presents a new revenue opportunity, but Google enforces strict brand safety and disinformation standards. X may need to improve content moderation to comply.
X's inventory is now part of PMAX. Due to current concerns, ARM advises caution until content moderation practices are refined. Consider adjusting account settings for placement, inventory, and content exclusions.
Amazon to Introduce Advertisements on Prime Video in 2024
Amazon plans to add ads to its Prime Video service in 2024, affecting UK, US, Germany, and Canada. Users can opt for an ad-free subscription at extra cost. Despite this change, Amazon promises continued value. Other streaming services like Disney+ and Netflix have made similar moves.
Currently, UK Prime costs £8.99/month or £95/year, covering one-day delivery and streaming. Amazon stated, "Starting 2024, Prime Video will include limited ads in the UK."
Though some may find ads in paid services off-putting, it could lead to lower subscription costs. Amazon's diverse Prime offering may cushion any potential subscriber loss.
Amazon commits to fewer ads than traditional TV. Members will be notified in advance and can choose the ad-free option. Live events, like sports, will still include ads.
Kantar reported a drop in paid streaming subscriptions due to cost. Max Willens of Insider Intelligence notes ad-supported tiers are becoming standard, making Amazon's move timely. Given industry shifts, this decision aligns with Amazon's customer-centric approach.
Amazon Invests Up to $4 Billion in AI Startup Anthropic
Amazon is investing up to $4 billion in Anthropic, an AI startup, to compete with major players like Microsoft, Meta, Google, and Nvidia. To begin with, Amazon is putting in $1.25 billion for a minority stake. Anthropic's AI chatbot, Claude 2, is a standout product which is ten times more powerful than current AI models. Amazon may increase its investment to $4 billion with a billion-dollar investment over 18 months.
This partnership gives Anthropic funding and access to Amazon Web Services (AWS) for computing power. This means they can enhance their AI capabilities and serve more customers through cloud services. AWS will be their primary cloud provider for critical tasks like safety research and AI model development.
As part of the deal, Anthropic will offer AWS customers worldwide access to their future foundation models via Amazon Bedrock. They'll also get early access to special features for model customisation and fine-tuning. Together, they aim to responsibly expand AI adoption and provide secure AI cloud technologies.
Scope3 Makes Emissions Data Publicly Available
Scope3, a carbon measurement firm, has shared its emissions data with the public. They track carbon emissions for companies in advertising, publishing, and tech. This allows buyers to identify high-emissions inventory and shift spending towards more eco-friendly sites.
As more data becomes available, we can review and exclude high-emission campaigns. If high-emission sites perform well, a discussion can be had, but as the industry is moving towards eco-friendly practices, sites may need to offset emissions to remain attractive for advertising.
For additional articles, visit the ARM content hub for industry news and insights.
SoundCloud's TikTok-styled discovery feed
SoundCloud introduced a TikTok-inspired discovery feed for iOS and Android. Users can now scroll vertically and listen to 30-second song previews, helping them decide if they want to hear the full track. The update also offers shortcuts for playlist management and track liking.
This new format offers a prime advertising opportunity for brands looking to engage music-loving audiences. Advertisers can strategically place content within the music discovery experience, potentially reaching a broad and engaged user base. Spotify and TikTok Music have made similar moves with vertical feeds for music and podcast discovery.
Our Avast Upper Funnel activity in France using audio platforms like Deezer and Spotify has shown promising results. This opens up another opportunity to diversify our media mix. While Soundcloud usage in France is half that of the UK (and even smaller compared to the US), it's a growing platform worth keeping an eye on in the future.
Battling Bots, Antisemitism, and a Paywall for X
Recently, Elon Musk discussed introducing a small monthly fee with Israeli Prime Minister Netanyahu to combat bots on Twitter. Musk wants to charge for account verification, a part of his plan to launch a premium service called X Premium. While this fee could deter bot operators, it might risk losing some users and impact ad revenue.
Additionally, Musk has threatened legal action against the Anti-Defamation League (ADL), claiming they're responsible for revenue loss. This follows a pattern of lawsuits against anti-hate speech organisations." According to the ADL, anti-Semitic posts on X increased sharply after Musk bought the site in October 2022 and the platform subsequently reinstated extremists and conspiracy theorists while allowing the harassment of former members of its now-dissolved trust and safety council.
Elon's threats seem to be an effort to discourage the ADL from perpetuating a message that he does not like. However, legal experts suggest Musk's chances of litigation success are slim.
For more industry news, visit the ARM content hub.
Meta Considering Paid Versions of Facebook and Instagram in Europe
Meta is considering offering paid versions of Facebook and Instagram without ads in the EU, addressing concerns over data privacy. This move would align with the EU's GDPR rules (which states companies have to obtain explicit consent from users before they can collect and use their personal data). The cost and launch date are unknown at this time.
This shows Meta's willingness to adapt to regulations. They've previously emphasised advertising's importance. Now, they face a choice between data collection and subscription-based services. Meta's revenue growth has slowed, and they're losing users to platforms like TikTok.
Offering ad-free versions could attract and retain users, potentially boosting revenue. However, it's uncertain if users will be willing to pay for a social media app. We'll keep an eye out for updates and press our reps for more information, although we consider this scenario unlikely, it could have a significant impact on our campaigns where Meta is a key platform.
BARB to take full control of advanced advertising tool CFlight
Starting January 2024, BARB will take over CFlight, a vital tool for advertisers to validate their campaigns' reach and frequency across different viewing platforms. CFlight, a joint effort by industry leaders, has been operating since March 2022, providing valuable data on reach and frequency metrics.
Recent upgrades allow deeper insights into the distribution of campaign frequencies. A significant upgrade later this year will let advertisers assess campaigns across 14 target audience segments. The synergy between CFlight and BARB's Advanced Campaign Hub helps advertisers in pre-campaign planning and budget optimisation.
BARB plans to expand CFlight's scope to include more BVOD and streaming services. A joint-industry project team will oversee this evolution, ensuring adherence to industry standards. This marks a pivotal moment in audience measurement, offering advertisers a comprehensive view of campaign performance.
From an ARM perspective, this is an interesting development. The proposed audience segmentation will help our planning and evaluation of BVOD activity, meaning we'll be making smarter buying decisions and delivering stronger results overall.
Pinterest release's new AI tech to increase representation
Pinterest introduces an AI-powered feature to promote inclusivity by categorising various body types. This tool, like their skin tone search, refines results based on body shape, size, and form. Much like Pinterest's previous skin tone search feature, which allows users to refine beauty-related pins according to their specific skin tone, this new addition functions as an image search tool, generating tailored results based on particular body types.
To create this tool, Pinterest collaborated closely with creators and experts from various backgrounds, including the National Association to Advance Fat Acceptance (NAAFA), the model and size advocate Tess Holliday, as well as Pinterest creators Natalie Craig, Kellie Brown, and Stefany Brito. Their feedback and insights played a pivotal role in shaping the tool to promote body representation on the platform in a healthy and positive manner.
Tigress Osborn, Chair of NAAFA praised Pinterest's safer environment and hopes it sets an example for other companies looking to follow suit. Pinterest also launched a fund supporting North American plus-size creators, which is part of their ongoing effort to champion marginalised voices.
Research shows over half of body-related searches are for plus-size fashion. This tool is part of Pinterest's broader inclusive AI initiatives, reflecting their commitment to diversity online.
For more industry news, visit the ARM content hub.
How can brands make the most of these developments in the digital world?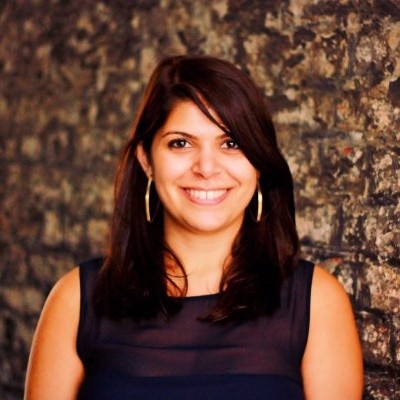 Maria Yiangou
London Board Director
"Lots of news this month in the digital world with lots of interesting developments. We think the news of Amazon Prime introducing adverts as standard in their membership and only offering an ad-free version for extra cost and also the news of BARB taking over CFlight illustrates the development that is happening in the digital AV space.
We know Netflix have been struggling to shift their advertising with their eye-watering CPMs and have admitted that they have made more revenue from blocking password sharing than their advertising route.
What this demonstrates is two key areas that we expect to see more of going into 2024.
Firstly, we expect there to be an adjustment to both the pricing and buying method for SVOD and other emerging channels in this space as the options continue to grow and compete with the likes of BVOD, linear TV and CTV. Although linear TV still holds the largest volume of viewers, we know AV viewership continues to get more fragmented and therefore, competition will help even out pricing.

Furthermore, BARB are obviously taking active steps to be seen as the go-to measurement solution for all these products which is definitely welcome as the current landscape measures success and effectiveness differently. 2024 will be a transformational year for AV and ARM welcome the more accountability and range that will come."
FEATURED READS
All Response Media services
Digital
Make your digital presence profitable. Supercharge your online paid media campaigns using our audience-first approach.

Offline
Be where your audience wants you to be. All Response Media provide full planning, delivery and optimisation to your offline campaigns.

Data & Systems
Our ARMalytics platform provides services tailored to your audience's needs. We provide full performance attribution and transparency.
Get in touch today
Get a second opinion on your advertising investment. Find out how Europe's largest performance marketing agency can combine data science with TV, digital and offline advertising expertise to drive business performance.