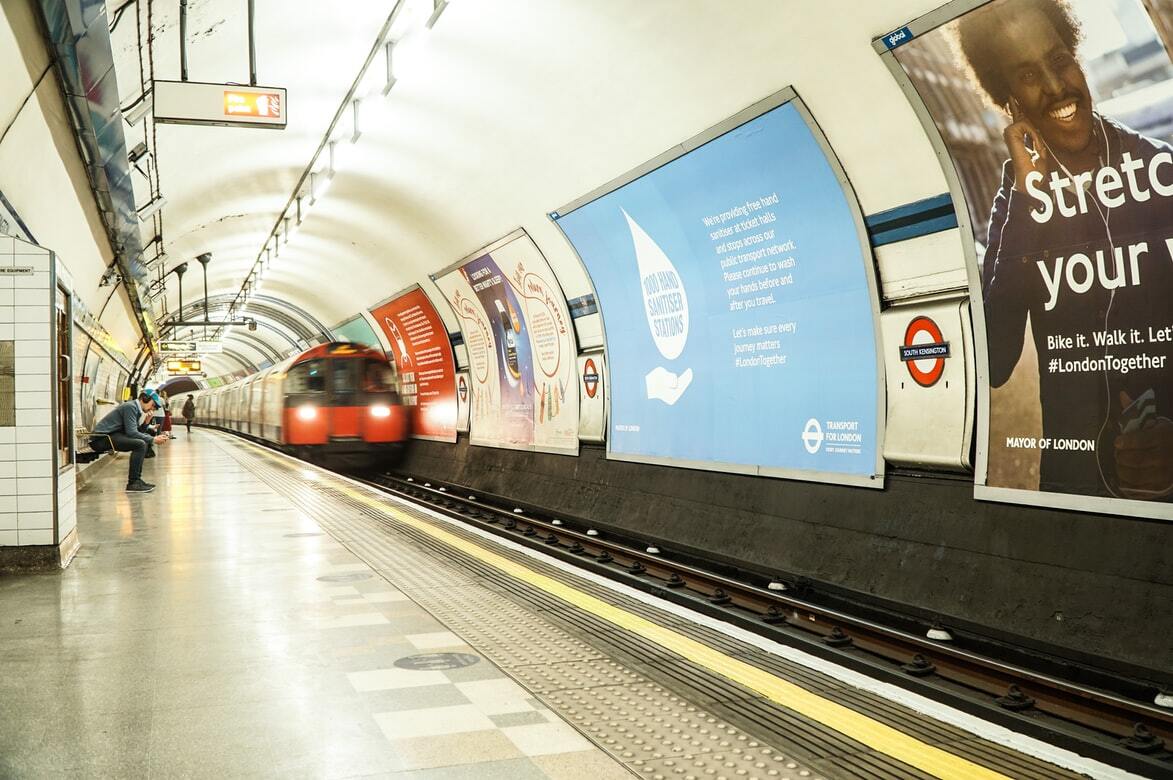 Pre-2020, out of home (OOH) advertising was in a strong position, with revenue up 7% year-on-year (YoY) across all environments. Digital OOH had been a key driver, with a total reach growing to 69% (a 9% increase YoY), forming over 50% of total OOH spend.

As we entered the 2020 lockdown, it was no surprise that the natural decline in impressions had a significant effect on revenue. From April to July, average monthly spending dropped by 80%.
OOH Advertising Revenue Sep 2019- Sep 2020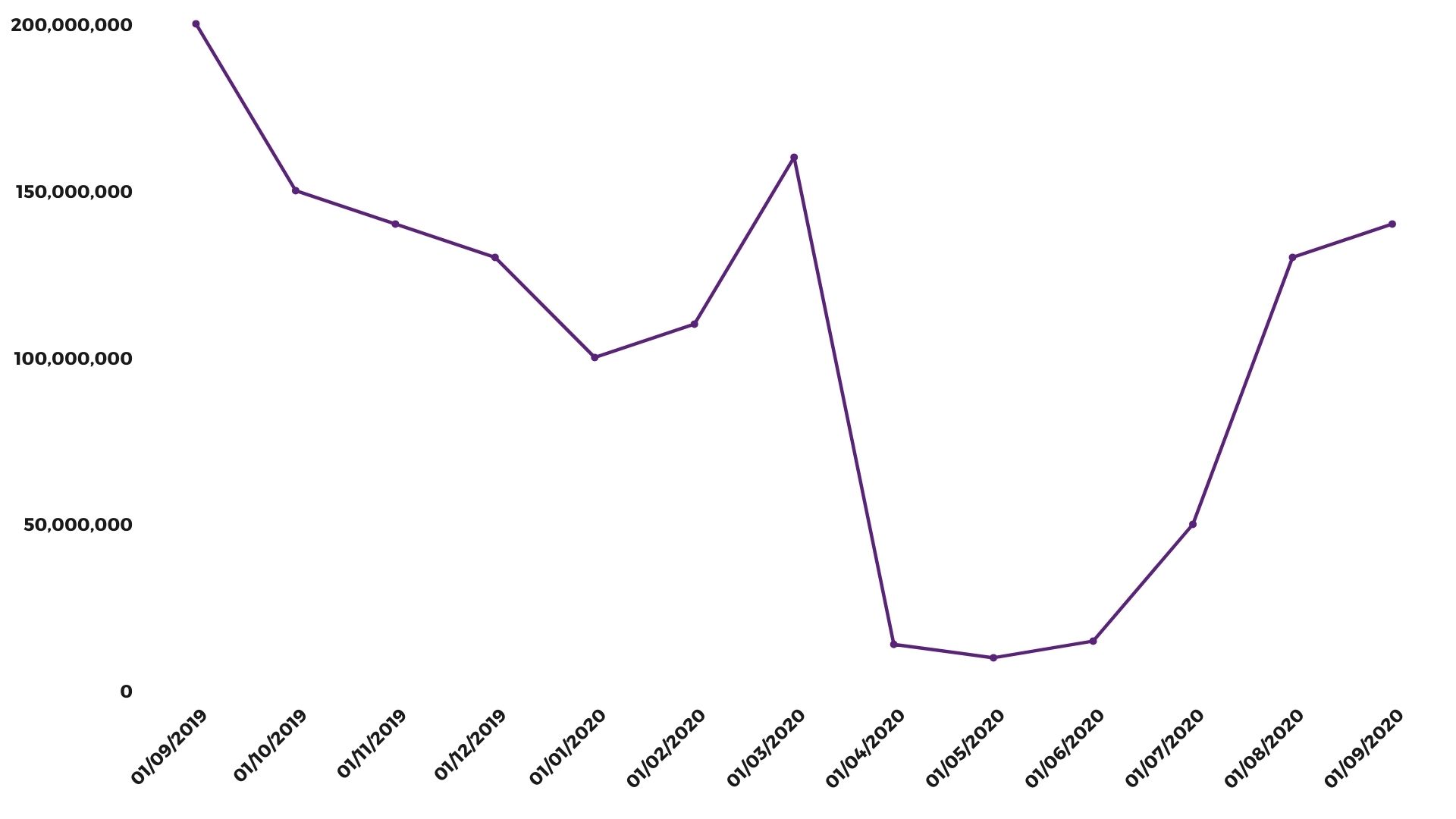 So, looking forward, how can we expect OOH to bounce back?
Geo-fencing and geo-targeting
Mobile devices can essentially break the barrier between OOH advertising and consumers, helping to double down on messaging, track engagement and gain actionable measurement from OOH creatives.
Geo-fencing, in short, is a way of setting up a virtual 'barrier' around a specific OOH ad spot area. A nearby consumer can receive a relevant ad if they have a mobile device with the right capabilities. This helps to reach a targeted audience at the right time, in the right place.

Similarly, geo-targeting advertises to consumers in a targeted location, the difference being that ads will only be delivered to consumers who meet a specific set of criteria – meaning it is likely to resonate. Advertisers can set parameters that deliver ads directly to consumers based on interests, behavioural habits and demographics.
Focusing on younger demographics
Younger demographics tend to respond better to OOH advertising at the time of seeing an ad, compared to older segments:
Improving the performance of OOH creatives
OOH ads have wide reach and high coverage; being received by consumers at various touchpoints. The problem with OOH is the lack of one-to-one experience between brands and consumers.
OOH builds brand recognition, whilst mobile can help to maintain these pre-existing brand images and reinforce the messaging.
The brain only needs around 400 milliseconds (less than ½ second) to engage with mobile advertising (Source: MMA Global) – meaning advertisers need to create striking mobile ads with instant impact.
To increase the performance of outdoor creatives, mobile and OOH ads should be notably linked in terms of design and messaging.
FEATURED READS
Overcoming audience measurement challenges
With a lack of one-to-one experience, audience measurement has often been a challenge for OOH advertisers – but adding mobile to the mix allows advertisers to not only deliver personalised, targeted ads, but also collect data that is necessary for performance tracking.

Location data can be used to effectively measure the number of consumers who have been nearby to an outdoor ad or visited a relevant store – in a specific time frame. Using mobile data to target users nearby to a brand or a competitors outdoor ad – means advertisers can gain insights into the top-performing locations.
All Response Media Viewpoint
Being able to measure and quantify media is a cornerstone of the ARM philosophy, so anything that can lead to a better understanding of the consumer journey is invaluable. The promise of direct response marketing is that, given the right targeting, it can produce a purchase immediately, exploiting existing demand and creating the opportunity for the consumer to engage with the product. So, channels that can deliver an immediate attributable lead, such as TV and press, work well.
However, delayed response marketing attempts to produce a response at some point in the future where an immediate response is impractical, such as with OOH or Radio, as typically consumers are busy doing something else at the time. This is where measurement becomes harder to attribute back to a specific media channel, which is why mobile is being seen as a potential bridge builder.
With the ability to geo-fence OOH campaigns that can be linked to individual mobile devices, it's possible to deliver messaging directly to those phones that would also have seen the poster creative. Then engagement on the device can be measured in the same way as other digital advertising, allowing advertisers to get a better understanding of how their OOH activity has increased performance.
As OOH looks to come back from a tough couple of years, caused from repeated lockdowns and a more hybrid form of working, it's important that a way to support spend on this channel is found. Mobile looks to provide this opportunity and is something we are investigating in our ongoing aim to provide an unfair competitive advantage to our clients.
FEATURED READS
Contact us to see how we can use our unique capabilities to maximise your sales and drive the growth of your online and offline campaigns like no other agency.