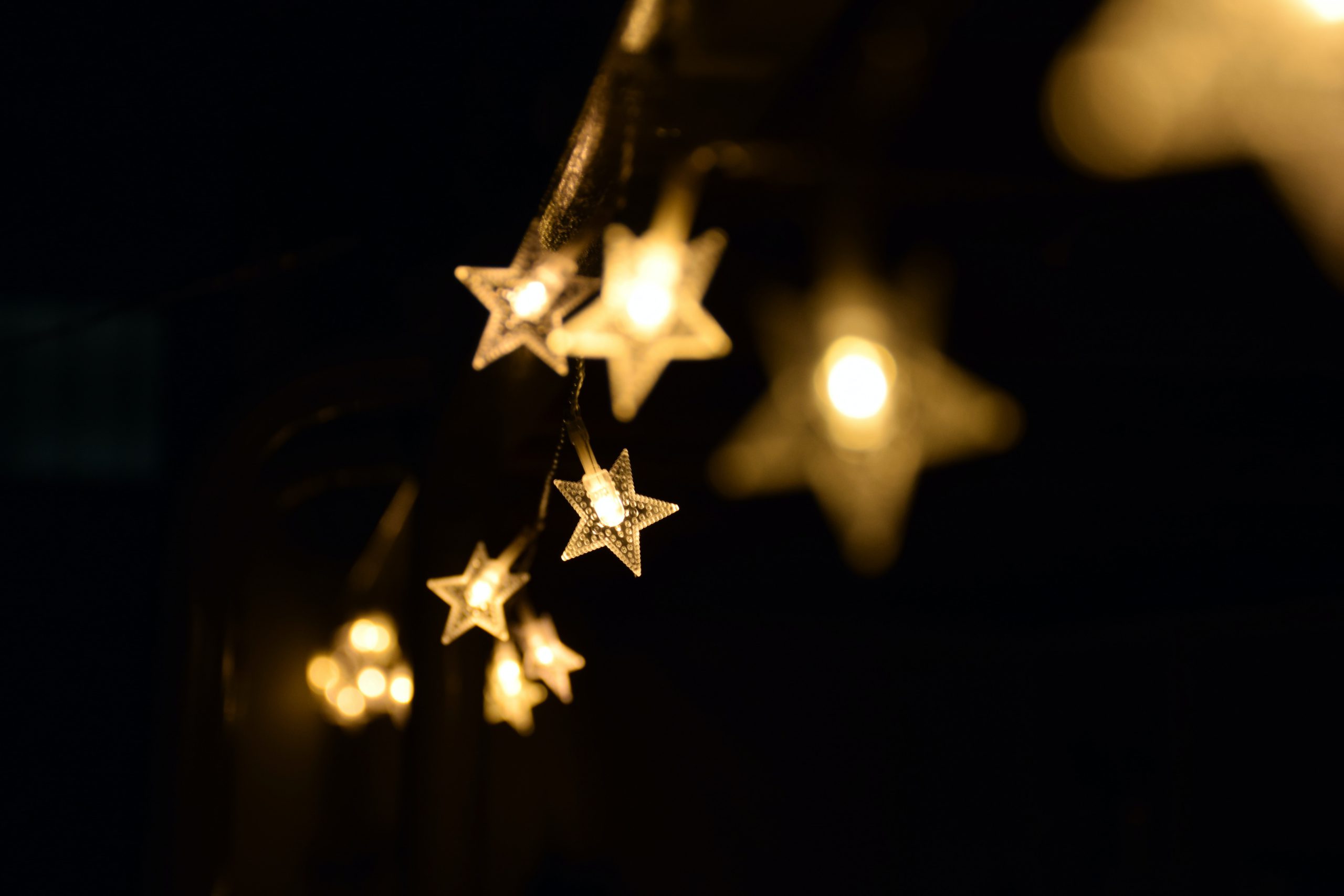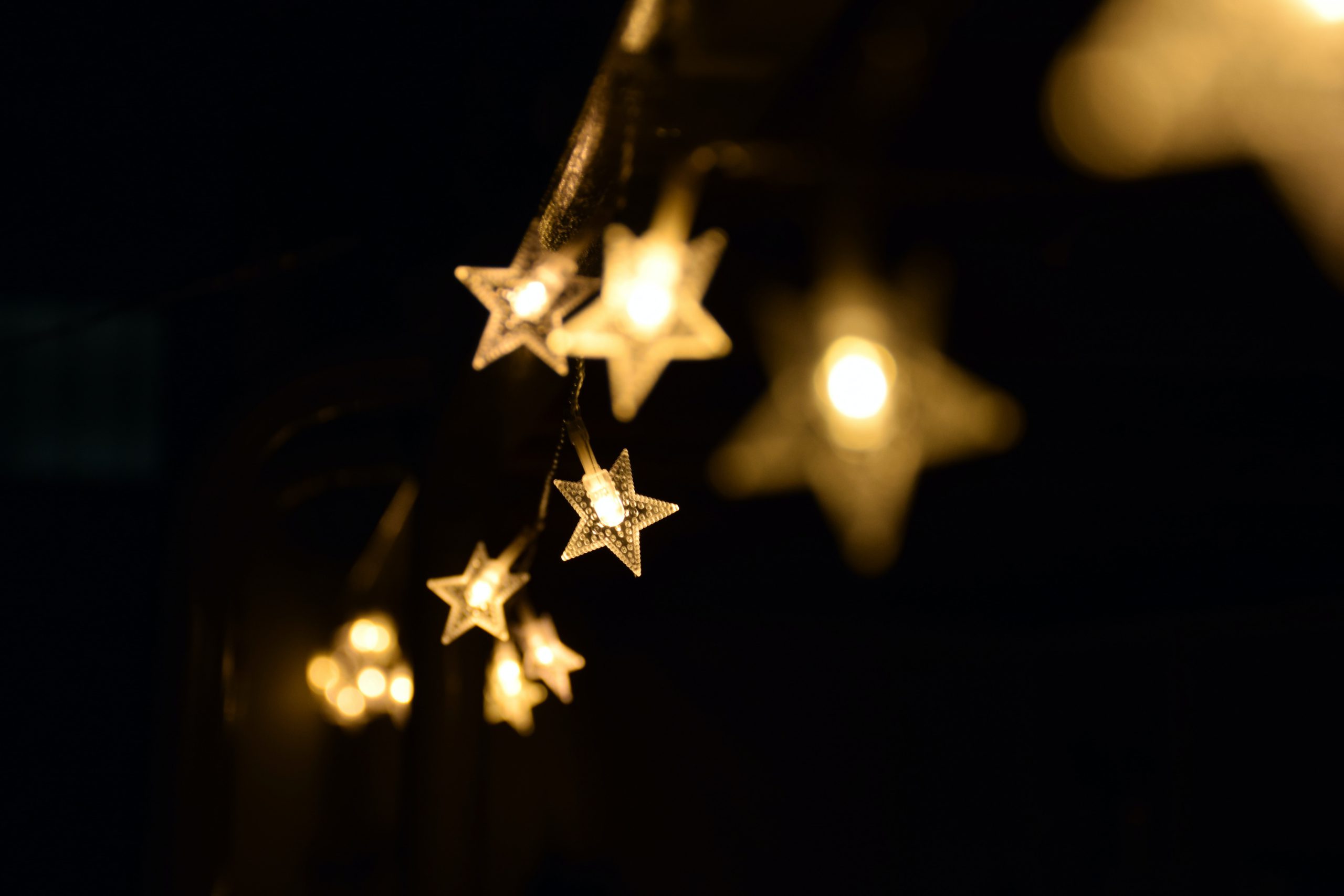 The latest estimates have 2022 TV spot revenue at –2% down versus 2021 with revenue in H2 expected to be down -9.5% year on year. ​
Helen Gray
Business Director, All Response Media
Leeds TV Advertising Agency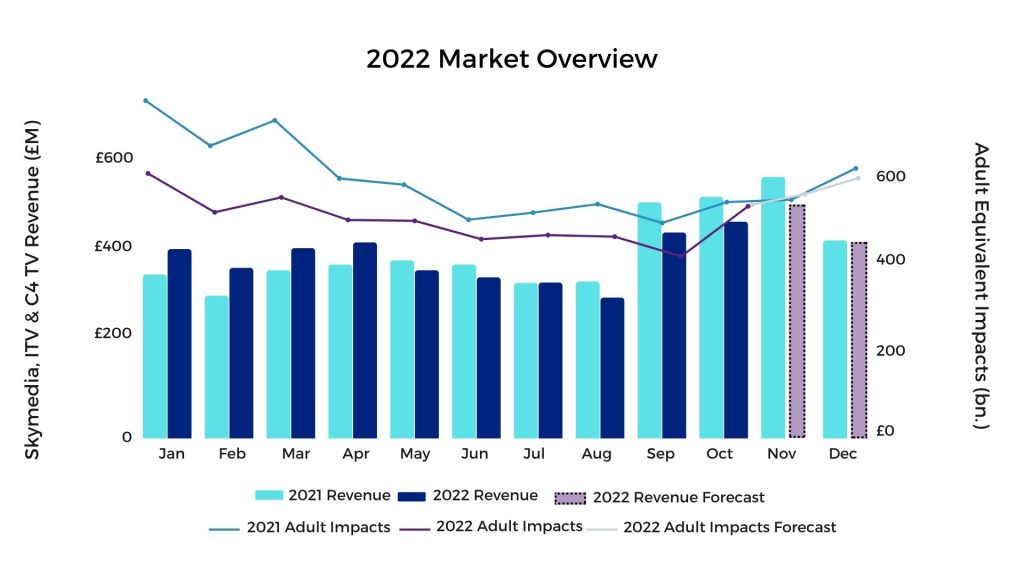 ​
October revenue
October revenue is being reported at -10.5% versus 2021, with C4 seeing the biggest decreases out of the big three (C4, ITV and Sky) at c.-12.5% YoY. Sky and ITV come in closer to -10%.​ October impacts are also looking much more buoyant YoY with adults consolidating at -4%.
​
November, plus December predictions
Revenue in November is expected to finish at -10% whereas adult impacts are flat YoY, driven by ITV up 16% across the full their full linear portfolio, and adult impacts up +22% across ITV1. This is down to I'm a Celebrity get me out of here being pulled forward to the start of November, and viewing for the World cup on ITV.​ YoY adult viewing in November was down -6% across C4 and down -9% YoY for Sky.​
December revenue is predicted to come in -10% YoY. And adult viewing is also likely to see decline YoY in December, especially with England now out of the world cup. 
TV viewing in October
Adult TV viewing summary:​
Overall, adult commercial linear impacts were only down -4% YoY in October.
Peak only saw a decline of -3%, with daytime following closely at -4%.
ITV's adult viewing was down the most overall YoY in October 2022, however this was still only a small decline at -6%. This was followed by Sky at -3% and C4 at just -1%.
​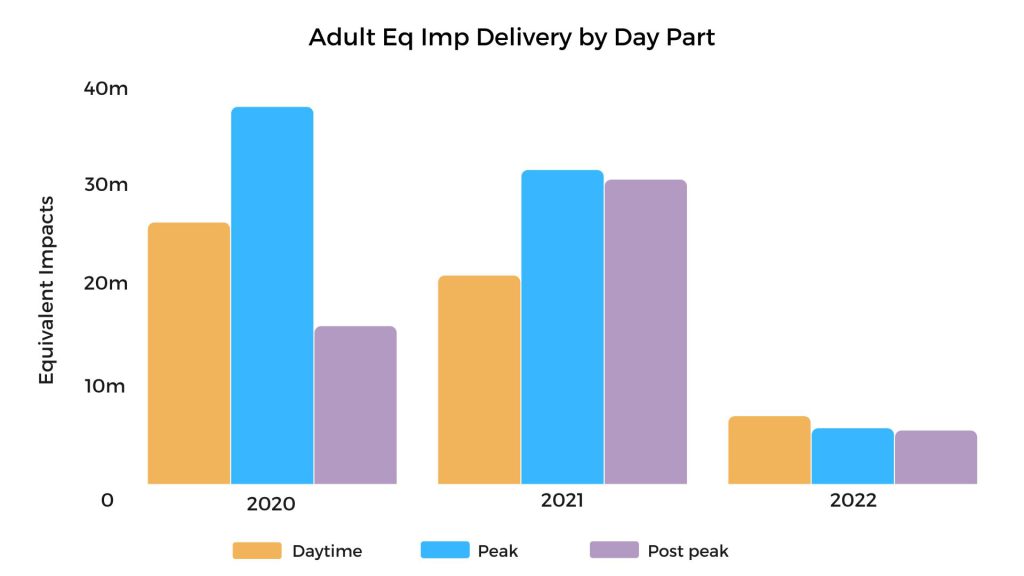 October's delivery was down significantly less in comparison to previous months. To put this into context, Q3 2022 saw significant declines of c. -13%. November saw strong performance across TV, particularly for The Great British Bake Off on C4, and the launch of the final series of Doc Martin on ITV1.
Sky Sports also saw strong performance with a host of premier league games including Arsenal vs Liverpool, Liverpool vs Manchester City and Manchester United vs Manchester City.
​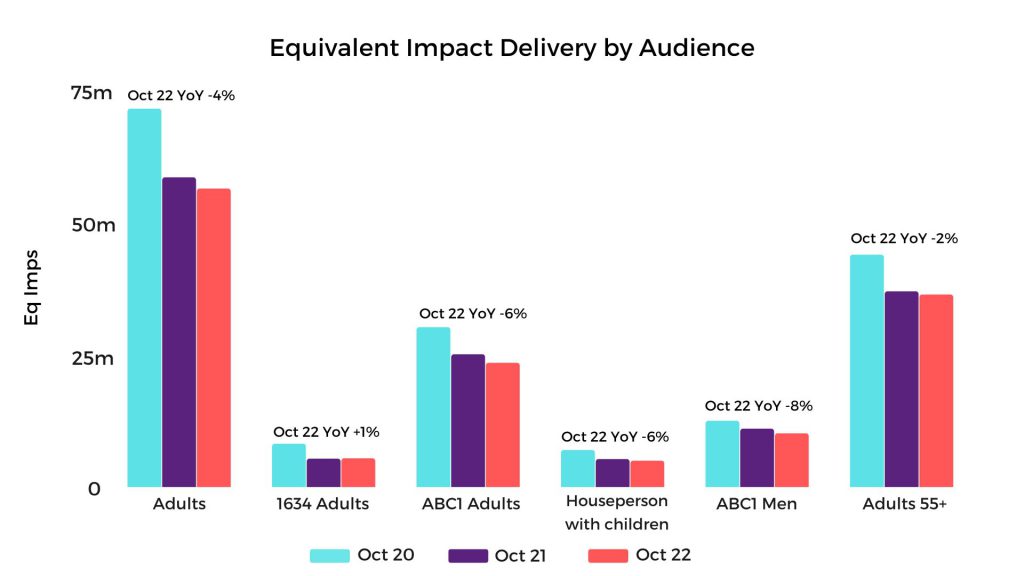 | | |
| --- | --- |
| Salehouse | Impacts (Adult) |
| ITV | -6% |
| Channel 4 | -1% |
| Sky Media | -13% |
| All Broadcast | -4% |
SOURCE: BARB , ADULT EQUIV IMPACTS (ALL STATIONS & SALESHOUSES)
Did you know?
The 2022 F1 season concluded with a race average of 1.68 million. This is the most watched F1 season ever on Sky. The F1 Abu Dhabi Grand Prix had 1.8m viewers across live and vosdal (viewing on same day as live) peak.
On the 31st December, Sky will be closing the station ROK. This was a free-to-air, 24 hour Nollywood movie and series channel that supplied the newest content to the African diaspora.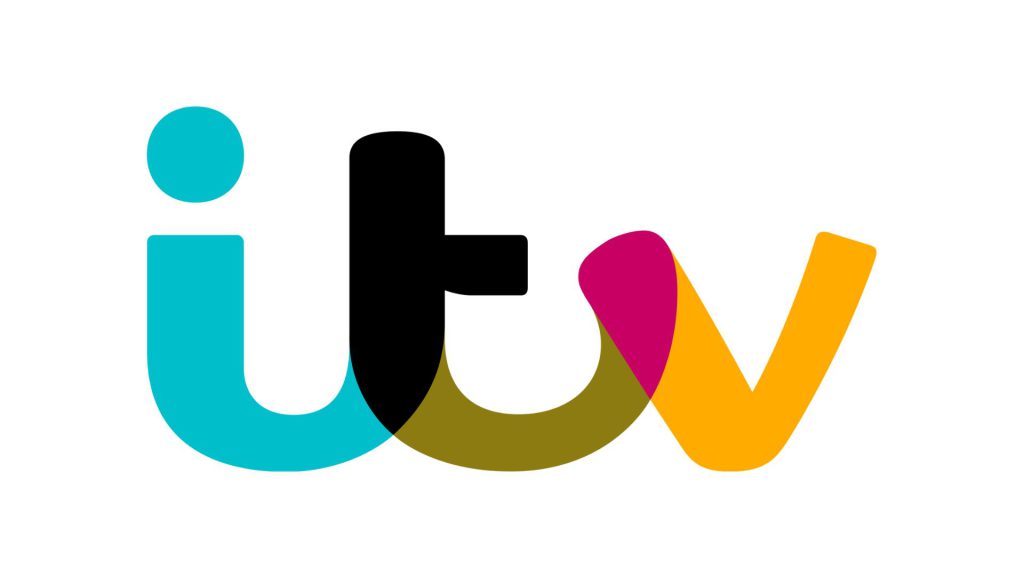 ITV have struck a deal with Tesco and Boots' new service 'Matchmaker' to provide better targeting and measurement to its ITVX platform. This new cookieless solution will use first-party data collected by the adtech firm InfoSum. The integration will allow advertisers using the retail media offerings from Boots and Tesco to better target ITV audiences and then measure sales uplift among those who have seen an ad. This will launch officially on the 8th December.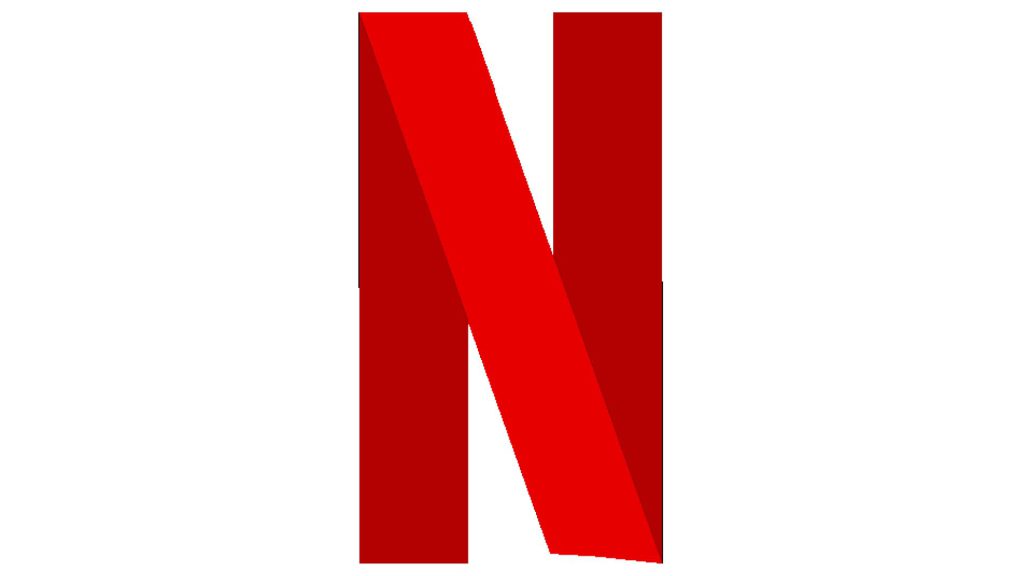 Netflix recorded a weekly reach of 47% with viewers watching an average of 20 minutes per day in November. This is considerably lower than linear broadcasters such as ITV with 63% reach and a 44-minute daily average. BARB has shown that UK viewers watch an average of 171 minutes of linear TV a day, whilst only watching 37 minutes of SVOD/AVOD platforms.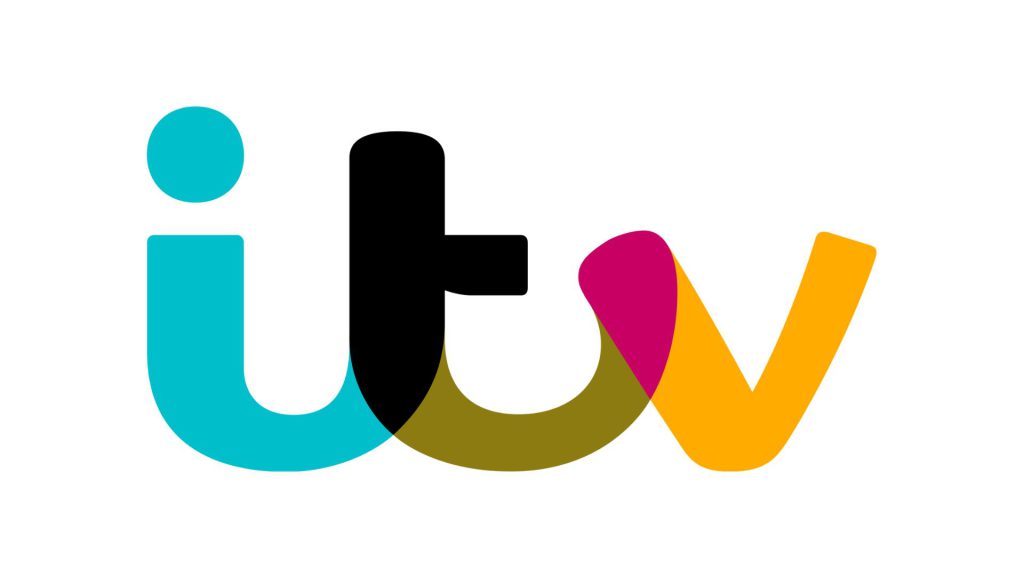 The final of I'm A Celebrity 2022 attracted an average of 10.1 million viewers. The figures had increased by 55% since their last series and drove their highest peak of viewers since 2018.
FEATURED READ: NETFLIX BASIC WITH ADS – A NEW ERA FOR TV AND ADVERTISERS?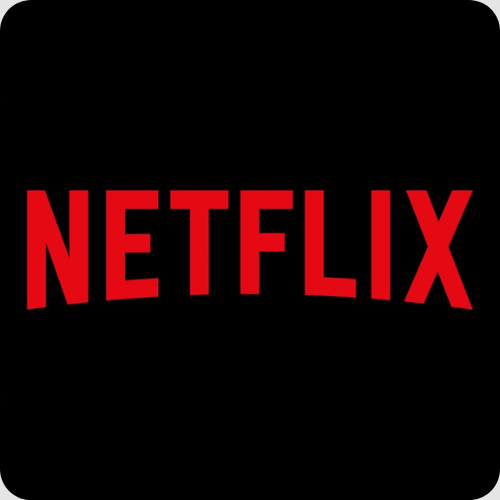 Netflix 'Basic with Ads' – An opportunity for advertisers?
Having no targeting (demographically or geographically) is a huge concern, even if we can exclude children, or potentially target specific programmes. For ARM and our clients, buying across 'all adults' with programme optimisations is a basic performance measure that comes with lower CPTs.
What are we currently advising clients?
ITV recorded the biggest weekly share in 20 years
With I'm A Celeb and the FIFA World Cup both in ITV's schedule in the W/C 21st November; ITV recorded the biggest weekly share in 20 years (30%). ​
I'm A Celebrity
​The return to the Australian jungle has also seen the return of TV viewers, as the 2022 series of I'm A Celebrity saw an additional 3.6 million viewers compared to last year's series at Gwrych Castle. This year, I'm A Celeb has been one of ITV's highest delivering programmes in 2022, with the first episode peaking at 11.8 million TV viewers and averaging at 11.3 million viewers according to BARB. For the W/C 7th and 14th November, it was the most watched show each week, with an average of 97% of audience viewing the episodes on a TV set. ​
I'm A Celebrity also saw an average of 2.5million 1634 adults tuning in to watch the first episode and 2.2 million across the entire series, making this the biggest 1634 adult audience of the year on linear TV. Each episode won the highest share of younger demographics during the 2100-2200 linear timeslot against all terrestrial channels. ​
Not only did the launch episode of the series deliver high ratings, but the final episode was also a huge success averaging at 10.1 million viewers; the highest rating final since 2018. Furthermore, the peak audience was 11.5 million viewers with a share of 59%, making this the highest peak audience in 2022 for an entertainment show across all stations. ​
With this series averaging at 11.1 million viewers (which is yet to be consolidated and likely to increase), ITV's Q1 and Q2 2023 peak programming schedule is looking strong, with an I'm A Celebrity All Star Spin-off coming in early 2023.
ITV also announced the return of a Winter Love Island in January 2023. With both shows indexing well for 1634 adults on linear TV compared to the commercial average, ITV's peak schedule is set to reach a younger demographic who are light linear TV viewers. Channel 4 have mentioned that they will be strategically placing their stronger peak programming in Q3/Q4 to avoid competing with ITV.​
​World Cup ​
​ITV and BBC are sharing the rights to broadcast the 2022 FIFA World Cup, with BBC winning two of England's three group matches. BBC One kicked off the tournament on linear TV, plus on BBC iPlayer with the opening game between Qatar and Ecuador on 20th November. The 4pm Sunday match performed well peaking at 8 million and averaging at 6.2 million viewers which was 2 million more linear TV viewers than the 2018 World Cup opener. ​
Although England's second group match was considered an underwhelming game by fans, the 7pm Friday night game against USA was a great success for ITV. The World Cup game beat I'm A Celebrity's high ratings as it saw a peak audience of 18 million whilst averaging at 15.1 million according to overnight figures.
England's game on 10th Dec was their biggest game in the tournament so far for UK TV viewers, with an average of 19.4 million viewers tuning in to ITV's linear network and 20.4 million viewing across all devices. 15.8 million viewers (individuals) watched the full live game and exclusive coverage.
With a handful of group games kicking off in AM, ITV's daytime programming has seen some schedule changes with This Morning and Loose Women being replaced with Live World Cup games. This was implemented on W/C 21st November and for the 28th November. During the same timeslot as World Cup daytime matches, Channel 4's daytime programming including Steph's Packed Lunch, Countdown and A Place in the Sun all delivered more ratings WoW with an average 20% uplift in adult viewers. 
​
The World Cup impact on other terrestrial channels
With the FIFA World Cup attracting millions of viewers, other terrestrial channels have inevitably seen a slight fall in TV viewers during their peak programmes.
Since the World Cup started on the 20th Nov 22, Channel 4 News at 7pm has seen an average-19% decrease in all viewers and -14% in ABC1s.
BBC One's Eastenders has seen an average -16% decline in viewers and -15% in ABC1s.
ITV's Coronation Street and Emmerdale have both seen an average drop of -18% in all viewers and a -21% fall in ABC1s.
Upcoming programming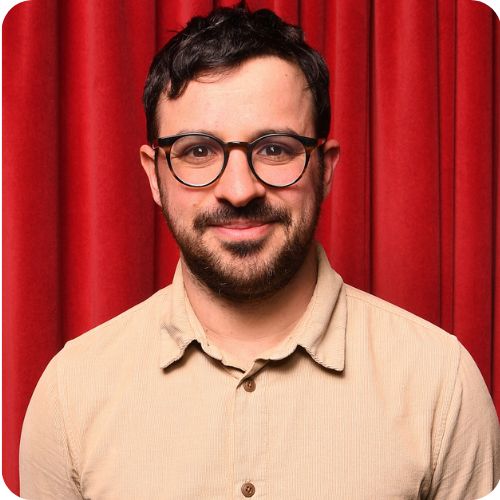 Everyone Else Burns (C4)​
Expected to be C4's new 'Friday Night Takeaway', Everyone Else Burns is a new six part comedy that explores the life of a hyper religious community, starring familiar faces such as Simon Bird, Kate O'Flynn and Morgana Robinson. The sitcom series is bitingly funny as we see a Mancunian family taking religion to a whole new extreme whilst trying to navigate themselves in the modern world. Channel 4 expects this will do well for AD1634s.​
​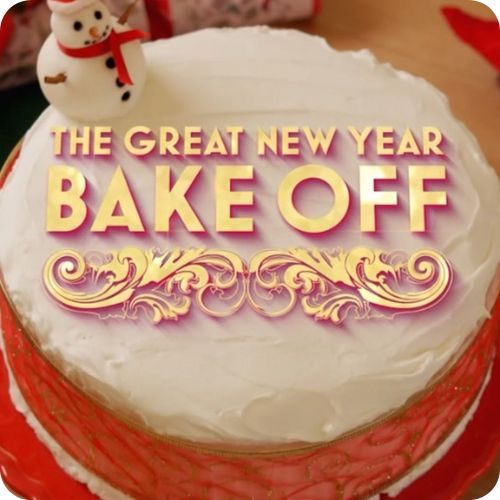 The Great New Year Bake Off (C4) ​
To celebrate the new year, Paul, Prue, Matt and Noel will return to the famous tent with a handful of previous bake-off contestants. Competing in three seasonal challenges, this 90-minute episode will see the bakers battle it out to bake the tastiest and technically perfected treats. The Bake-Off franchise is a well-loved show that brings families together around the TV screen. ​
Celebrity Juice (ITV) ​
After 14 years of Keith Lemon's Celebrity Juice, the series will come to an end. But before Keith leaves our screens, two farewell specials will be shown on ITV2 in December. Familiar faces from the show's past will return as well as revisiting the funniest moments and interviews. This show indexes well for ABC1 Adults and is expected to deliver high ratings for both episodes due to being the finale of the Celebrity Juice series. ​
Stonehouse (ITV)​
Based on the life of the Labour minister John Stonehouse, this three-part drama follows how he attempted to fake his own death by vanishing from a beach in Florida in 1974, but miserably failed. Matthew Macfadyen is playing the lead role and Keeley Hawes is co-starring as his wife.​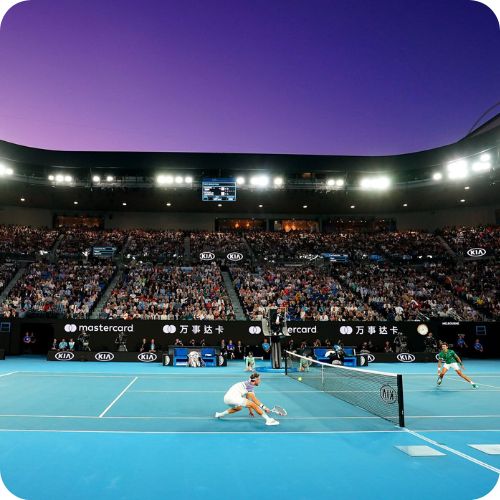 Australian Open Tennis​
Eurosport will be exclusively airing the Australian Open Tennis in January 2023. In 2022, the tennis Final delivered the stations highest viewers with over 1 million people tuning in which made Eurosport the biggest commercial channel on TV. They are expecting to see similar figures in this upcoming tournament which will index well for ABC1MEN.​
Sponsorship highlights and advertising opportunity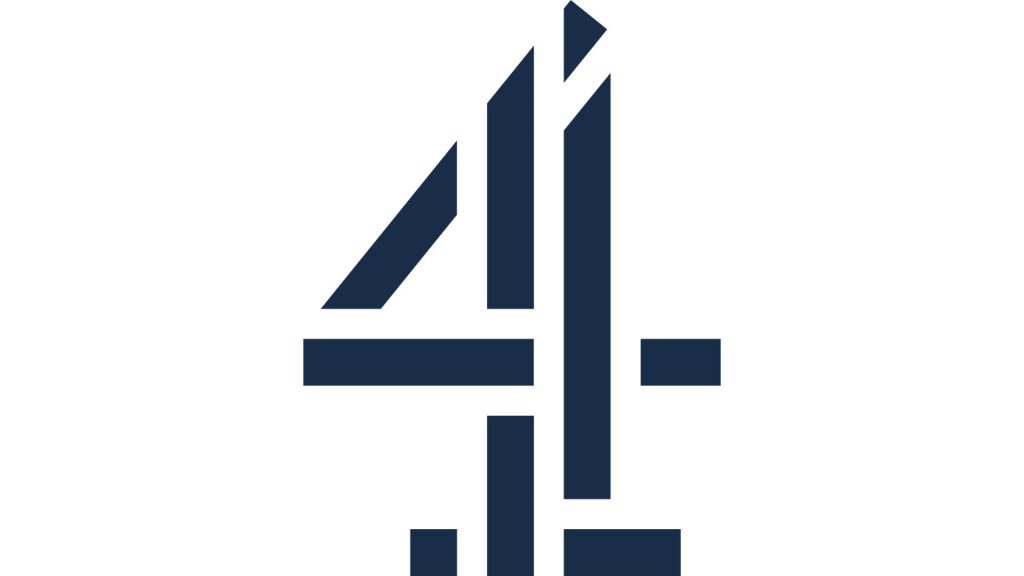 Rise & Fall​
This is a new programme C4 have commissioned for spring 2023 and will be the replacement show for The Circle which is no longer on C4's schedule. Across linear viewing alone, the TV show is expected to reach nearly 10M adults, skewing more towards ABC1 Females and 16-34 Adults. The predicted profile of 16-34's Adults is 4 times higher than the commercial average, and so this sponsorship will be great for brands who are targeting a younger and upmarket demographic. ​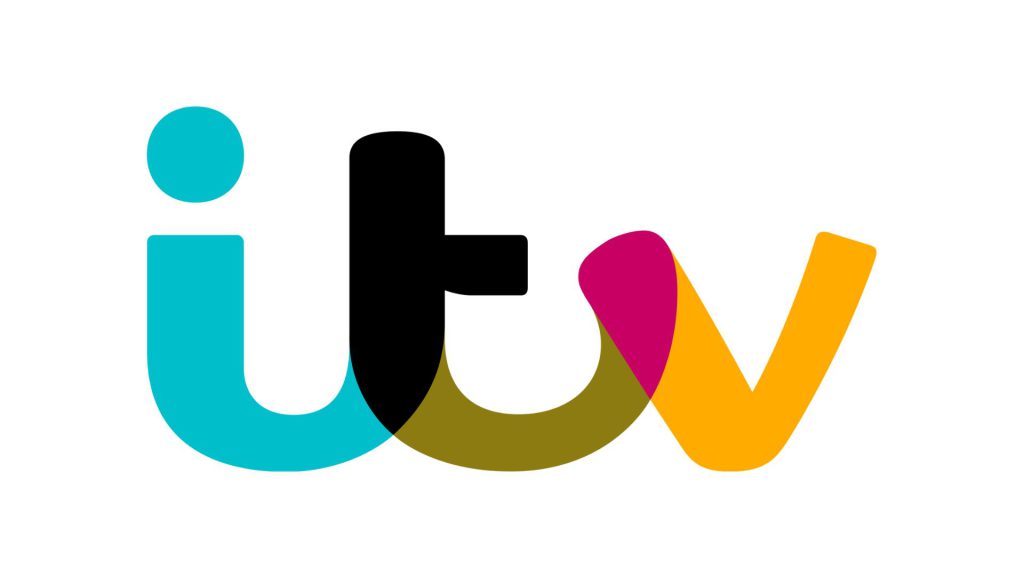 This Morning Food​
ITV are offering an eight-month opportunity to sponsor their weekly food segment on their much-loved daytime programme, This Morning. This partnership will give a brand the opportunity to associate with celebrity chefs and reach passionate food lovers on a trusted platform. It is an upmarket show that skews towards women which is good for advertisers who would like to target ABC1 Women. ​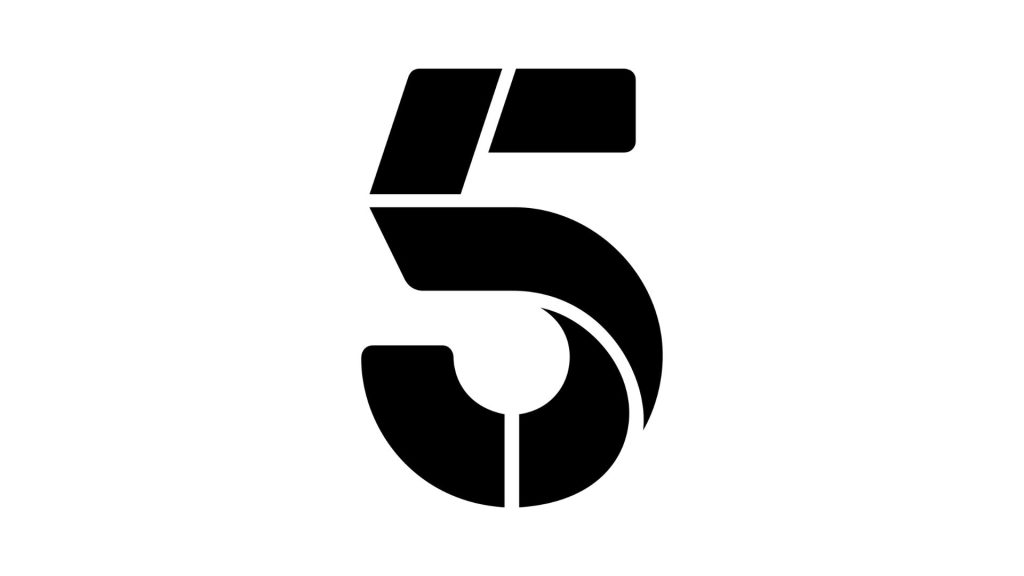 Travel & Escapism​
As the UK weather turns cold and miserable, C5's travel and escapism programming is the perfect distraction as shows including Cruising with Susan Calman, Holidaying with Jane McDonald and Million Pound Motorhomes explore the world and take us to new destinations. This package is expected to reach 54% of ABC1 Adults which is ideal for brands wanting to reach an upmarket audience at scale. ​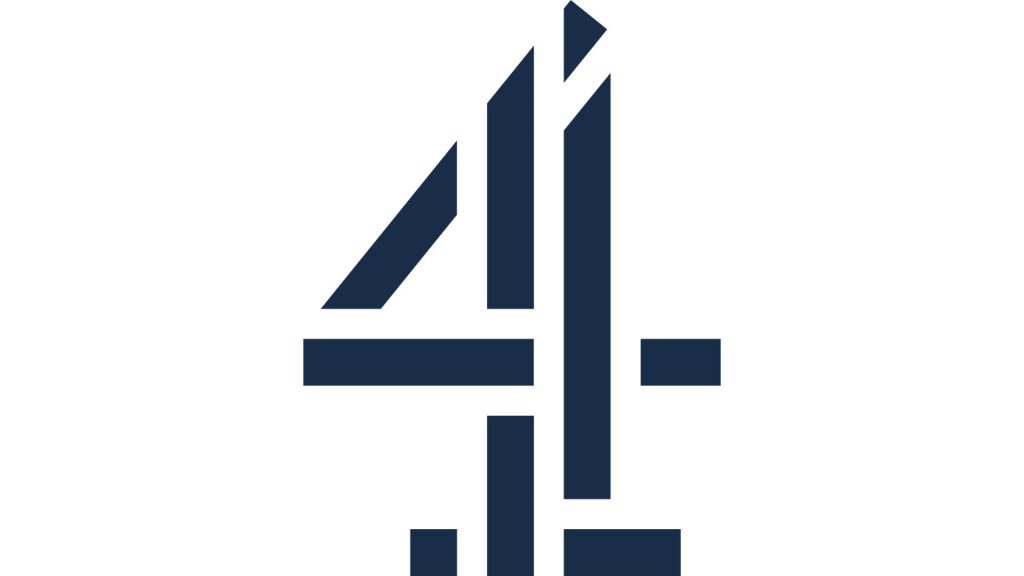 Scared of The Dark​
With a brand-new format, Scared of The Dark is a competition between celebrities who must undertake extraordinary tasks to save their place on the show. This sponsorship will be across all 6 of their hour-long episodes expected to air in May 2023 across weekdays. This will be good opportunity for brands who are wanting to target ABC1 Women on Channel 4. ​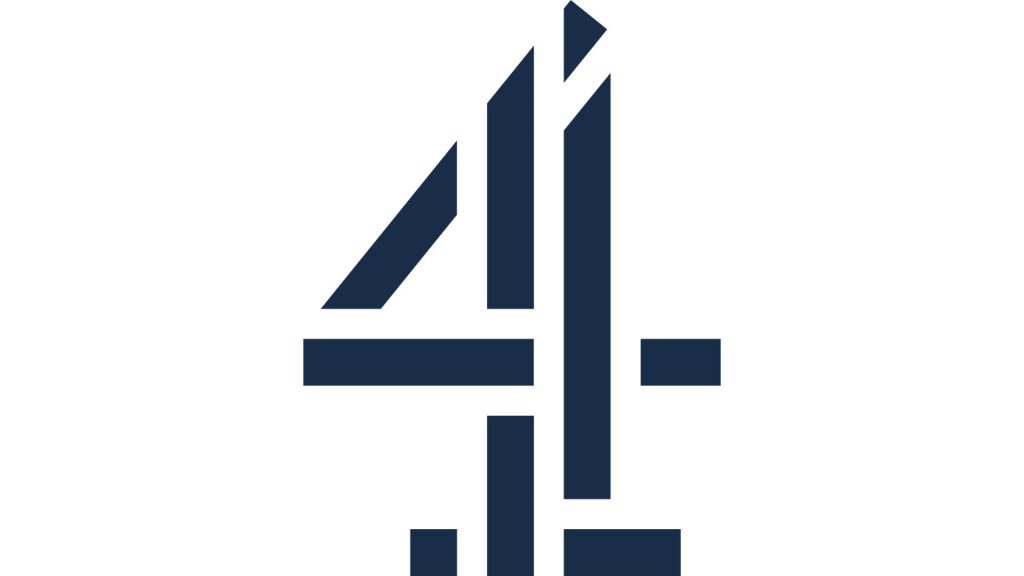 Countdown​
Delivering an older, upmarket demographic, Channel 4's longest standing programme, Countdown, is offering a 12-month long sponsorship which is expected to reach 29% of ABC1 Adults 55+ and 23% of all Adult. The partnered brand will have a daytime weekly presence on Channel 4 with 235 episodes throughout 2023. ​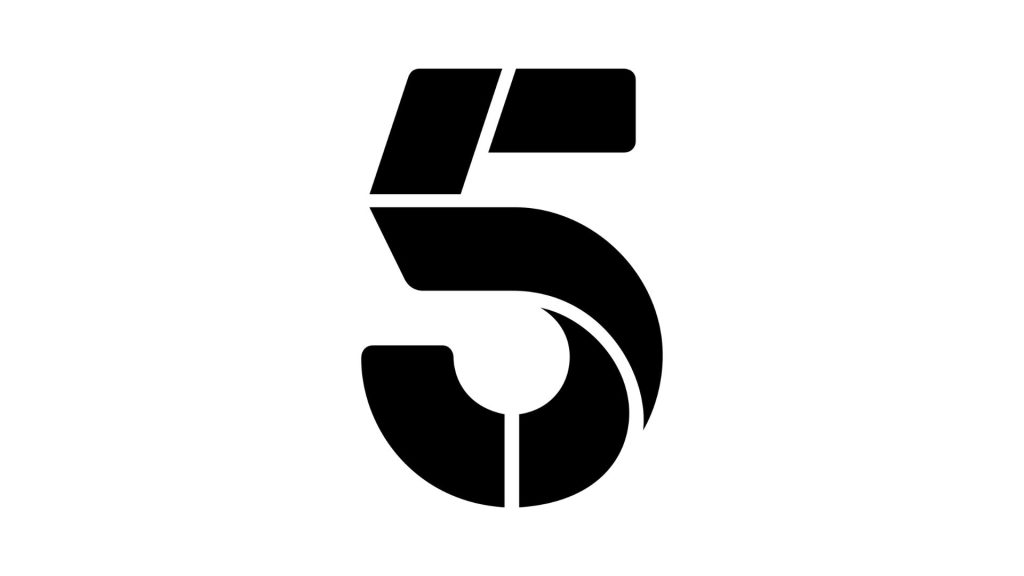 Great British Stories ​
If history and culture are important to your brand, Channel 5's Great British Stories sponsorship will give you consistent peak presence over 12 months whilst aligning with British themed programming. This includes Inside the Tower of London, Harrods at Christmas, Kate: Our Queen in Waiting and Secrets of the Royal Palaces. This sponsorship is great for brands who are wanting to appeal to an affluent audience with disposable income as it is expected to reach 47% of ABC1 Adults. ​
FEATURED READS
Get in touch today
Get a second opinion on your TV advertising investment. Find out how Europe's largest performance marketing agency can combine data science with TV, digital and offline advertising expertise to increase ROI.
Who do we work with?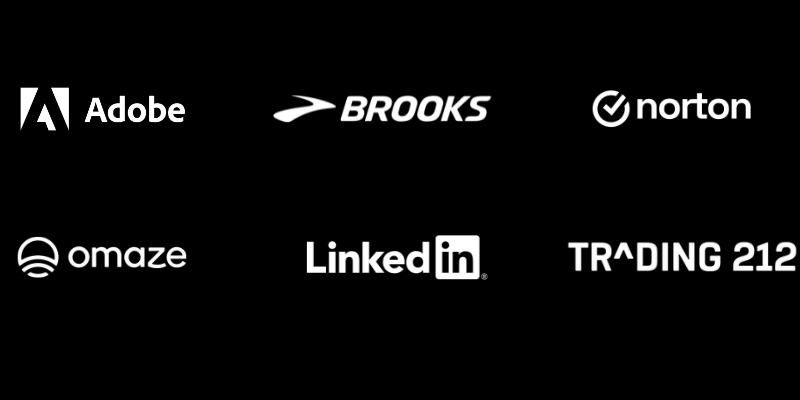 See how one of the UK's largest independent media agencies has consistently been building businesses and brands for over 25 years